Salt Lake West Side Stories: Post Twenty-Three
By Brad Westwood
Above photo caption: Based on information provided on a Salt Lake Tribune folder, the above image was described simply as the "Yee Family, Plum Alley." What we know for certain is that the image was taken on January 9, 1946, by Chinese American Tribune photographer Ray King. The photo backdrop is a wall filled with framed art and photographs, including portraits of the Republic of China (National Government) leader Chiang Kai-shek and Madame Chiang Kai-shek (Soong Mei-ling).
Chinese immigrants were the largest group of laborers who worked on the Central Pacific Railway (CPR). Commencing in Sacramento and ending at Promontory Summit, Utah, Chinese immigrants made the completion of America's Transcontinental Railroad possible. This was just the beginning for Utah's Chinese American community.
Initially, the contractors for the Central Pacific Railway cautiously hired Chinese laborers to supplement white, mostly Irish and Civil War veterans, laborers. However, high worker turnover, minimal pay, and the Chinese workers reliability and work ethic resulted in the Central Pacific relying predominantly on Chinese labor to build their half of the transcontinental road. Many of these laborers returned to China after the railroad was completed; however, others remained in the American West, and found employment in mining, road building and working for other railroads. Many also established businesses, some catering to networks of Chinese laborers that worked and lived across the Intermountain and American West.
Many of the Chinese immigrants that remained in the Utah Territory worked on railroad section gangs or maintenance crews. Hundreds of Chinese immigrants maintained the newly built railroad around the Great Salt Lake and into Nevada, while others worked for the Union Pacific from Salt Lake City into the Wyoming Territory. Chinese enclaves developed in many Utah railroad towns including Terrace, Kelton, Corrine, Ogden and just outside of Utah Territory, in Evanston. In later decades, Chinese Americans worked as miners or storekeepers in Silver Reef, Park City, Alta, and Mercur. Utah's Chinese Americans contributed significantly to the political, religious, economic, and social life of the territory.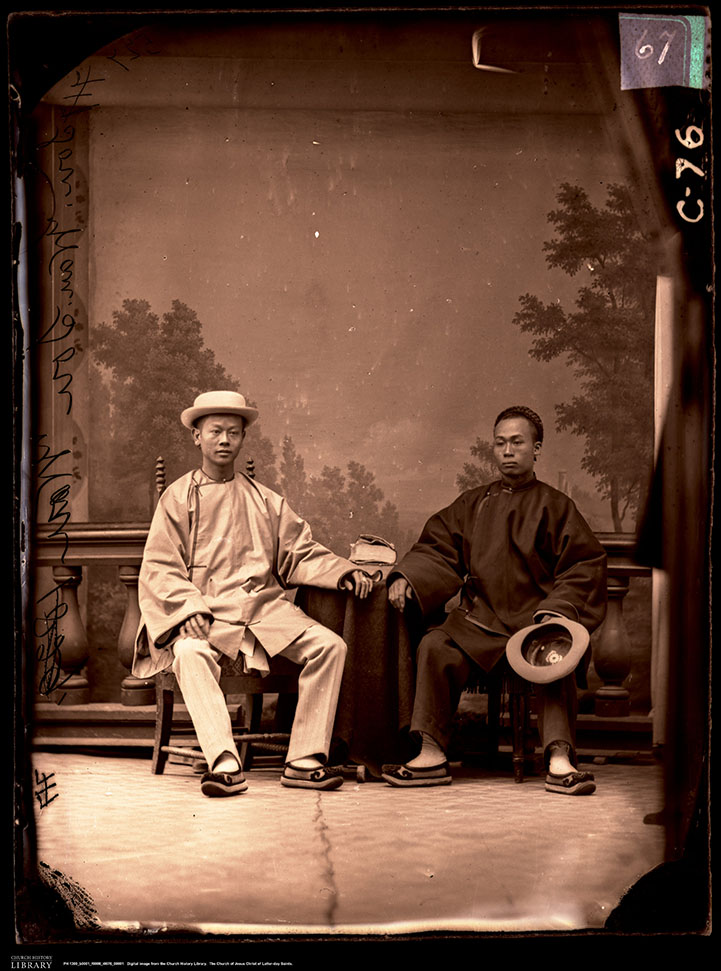 Many lived in what was known as Plum Alley. Plum Alley was located northwest of the Pioneer Park neighborhood between 100 and 200 South and State and Main Street. While newspapers did not reference Plum Alley until the early 1880s, evidence suggests that the enclave formed as early as the late 1860s. Plum Alley consisted of tenement houses, including the Joss house, fraternity organizations (Bing Kong Tong – "tong" meaning "meeting hall"), and Chinese-owned laundries, groceries, retail stores, and restaurants. During the 1880s, Dr. Sco Hou Long, who was listed in the Salt Lake City Directory, attended to the medical needs of Plum Alley's citizens and to the territory's extended Chinese population.
Plum Alley was a regional center for Chinese life, offering and sending Chinese imported foodstuffs and goods, throughout the Intermountain West. Many Chinese immigrants felt the safest, living and working, in Plum Alley. Several Utah employment agents worked with Chinese Americans to find jobs for them. As late as 1900, Plum Alley business owners served as Chinese community leaders and held regional control over the sale and distribution of Chinese goods.
What's the connection with the old west side and the Pioneer Park neighborhood? Chinese Americans raised and sold fresh produce from garden lots located along the west side railroad corridor. Garden lots were also located in the lower Eighth Ward and the Pioneer Park neighborhood. A few Chinese farmers lived in shanties constructed on their garden lots where they also kept pigs and chickens. One such garden complex was located northeast of Pioneer Park at the site of the old fort spring, near the present-day LaFrance Apartment Buildings. Chinese Americans typically found that the lots for rent on the west side were far less expensive than open lands available elsewhere in the city.
Chinese immigrants opened a number of businesses that served Salt Lake's citizenry. One profitable endeavor during the late 1870s and early 1880s was laundries. In 1884-85, there were over a dozen Chinese American-owned laundries listed in the Salt Lake City Directory. Some of the business owner's names included Hop Hong, Sam Hing, Soe Lee, Lee Quong, and Sun Lee. Unfortunately, anti-Chinese sentiments pushed many of them out of business. By 1886-1887, the directory lists only three laundries and all of them were white-owned (however Chinese laundries survived into the twentieth century). During the 1870s and 80s, those who lived in Salt Lake City and sought laundry service most likely turned to Chinese American-owned businesses.
"During the 1870s and 80s, those who lived in Salt Lake City and sought laundry service most likely turned to a Chinese-owned business."
In the decades following the California Gold Rush and the completion of the Transcontinental Railroad, the United States saw an influx of anti-Chinese sentiments. Discrimination against Chinese immigrants stemmed from nineteenth century ideas about race, which placed whites at the top of the social hierarchy. Anti-miscegenation laws, or laws against mixed race relationships, prevented whites from marrying people of color. Such laws deeply reinforced racism and supremacist ideologies. Utah passed its own law that categorized interracial marriages as illegal in 1883. This law was not overturned until 1963.
Additionally, whites justified their racial discrimination against Chinese immigrants using a number of arguments including that Chinese immigrants tended to establish and stick to micro-communities and therefore refused to integrate into the larger (white) society. Whites also blamed people of color for economic downturns and for the tendency of business owners to hire immigrants who were willing to work for lower wages. With some variations, the racial and labor exploitation factors described here can be applied to most marginalized people of color described in Salt Lake West Side Stories.
Anti-Chinese sentiment eventually resulted in the passage of the Chinese Exclusion Act in 1882. This Act suspended Chinese laborers from entering the United States and prevented Chinese immigrants from naturalization. In Utah, the passage of the Chinese Exclusion Act nearly destroyed life in Plum Alley. Before 1882, state and national laws encouraged unmarried Chinese immigrants to work in the United States. However, the Chinese Exclusion Act stopped immigration entirely and prevented Chinese residents who had returned to their native country from reentering the United States. Like much of the interior American West, with these laws in place, and with documented examples of hostility and resentments, white Utahns pushed many Chinese Americans out of the territory.
Not all Chinese immigrants, however, left Utah. Plum Alley continued to survive well into the twentieth century. Between World Wars I and II there were as many as 500 Chinese Americans living from Ogden to Park City. Chinese immigrants served their country in World War II as drafted and enlisted soldiers. A quarter of all Chinese American soldiers served in the Air Force in the China-Burma-India theater. In 1943, the United States Congress repealed the Chinese Exclusion Act, which allowed roughly 40% of Chinese American soldiers, who served in the war effort, to become naturalized citizens.
Utah's Chinese American communities grew after World War II as waves of new immigrants arrived in the United States. Many migrated came from Taiwan (known then as the Republic of China), and then later from the People's Republic of China. During the 1940s and 50s, state efforts to replace Chinese-owned buildings and merchants operating within Plum Alley with new buildings and businesses, proved successful. Nonetheless, Salt Lake's Chinese American community spread across Salt Lake City and Utah, and continues to grow today.
In the next two installments of Salt Lake West Side Stories, we will explore the history of African American Utahns who called the west side their home.
Would you like to read the next post (Post 24)? African Americans and Salt Lake's West Side: Part One
Click here to return to the complete list of posts.
---
Related Activities: Walk from 100 South behind the new Eccles Theatre down Regent Street. On your way, read the ground plaques and historical markers. When you reach 200 South, turn east onto what remains of Plum Alley. Notice that even today the alley gives a sense of separation from the surrounding culture and business district. We also suggest reading about Utah's Chinese American community entry on Utah State History's "History to Go" site.
Contributors: A special thanks to Kin Ng, Margaret Yee, and Max Chang for contributing to the contents of this post.

This post was researched and written by Brad Westwood with a whole lot of help from friends. Thanks to our sound engineer and recording engineer Jason T. Powers, and to his supervisor Lisa Nelson, both at the Utah State Library's Reading for the Blind program. Thanks also to yours truly, David Toranto, for narrating this post.
Selected Readings:

Gordon S. Chang, Ghosts of Gold Mountain: The Epic Story of the Chinese Who Built the Transcontinental (Boston, MA: Houghton Mifflin Harcourt, 2019).

Gordon S. Chang, Shelley Fisher Fishkin, eds., The Chinese and the Iron Road: Building the Transcontinental Railroad (Palo Alto, CA: Stanford University Press, 2019).

Helen Z. Papanikolas, The Peoples of Utah (Utah State Historical Society, 1976, p. 251-278).

Daniel Liestman, "Utah's Chinatowns: The Development and Decline of Extinct Ethnic Enclaves," Utah Historical Quarterly, Vol. 72, No. 3 (Summer 2004): 70-95.

Walter Jones, "Chinese in Salt Lake City From the Late 1860s to the Early 1900s," presentation, Utah Westerners, 2012, in the possession of the author.

Patrick Q. Mason, "The Prohibition of Interracial Marriage in Utah, 1888-1963," Utah Historical Quarterly 76, no. 2 (2008): 108-31.

James C. McNaughton, "Chinese-Americans in World War II," May 16, 2000; U.S. Army Center of Military History, US Army Training and Doctrine Command (TRADOC).

Salt Lake City Directories, 1884-1885, 1886-1887, 1891. Many, if not all, of the directories can be found on Archive.org.
Do you have a question or comment? Write us at "ask a historian" – askahistorian@utah.gov