Date: 05.07.2020 (Season 1, episode 11; part one: 30: 41 min., part two 26.50 min.): To hear the BuzzSprout versions of this Speak Your Piece episode, click here for part one and part two. The above image is of a 1873 cropped map that shows Indian reservations within and around the Utah Territory. With the discovery of gold and silver in Colorado, and the desire for anglo settlement, these reservations became much smaller in size. Note also the Protestant churches (Presbyterian, Baptist, Unitarian and Methodist) who maintained educational and proselytizing missions to these reservations. Are you interested in other episodes of Speak Your Piece? Click here for more episodes.
Podcast Content:
Although we marvel at Utah's San Juan County, with its haunting mesas, buttes, gorges, cliffs, rivers and desert plains, it wasn't always that way. For most of the 19th century (1847-1890s) occupying white–mostly agricultural based settlers–made this one of the last regions "settled" in Utah. Eventually white settlers came from the north (Mormons from 1879 onward) and from the east and south (1880s from New Mexico, Colorado and Texas). Before, the land was the long held domain of Native Americans (Navajo, Ute, Hopi, Apache and Paiute).
Today many locals, along with explorers and tourists, experience this region for its long history or what historians describe as the longue durée (history not in decades or centuries but thousands or millions of years). San Juan County's Native Americans, its landscapes and ecosystems, and its thousands of archaeological sites, encourages this kind of thinking. Listeners will find familiar echoes in this 130 plus year old story, in today's highly charged San Juan County controversies, especially regarding the Bears Ears National Monument.
Greg Thompson (U of U, retired) discusses the tumultuous time in San Juan County from the late 1870s to the 1890s. Topics discussed include: Texas and southern plains cattle companies, with tens and thousands of head of cattle, grazing on San Juan lands in the 1870s and 1880s; Utahns and Mormon, anxious about claiming this region before others do (thus the 1879 Hole-in-the-Rock expedition); and how Colorado miners, settlers and even the US Congress and Colorado's congressional delegation lobbied, off-and-on from 1883 to1894 unsuccessfully, to make over half of San Juan County a reservation for the Colorado's Southern Utes. Something the tribe found acceptable amid more difficult choices before them. This is a story few Utahns know about.
---
Podcast Episode (Part 1):
Podcast Episode (Part 2):
The Native American tribes discussed in this episode include who are today the Southern Ute Indian Tribe, the Uintah and Ouray Utes of Northeastern Utah (Fort Duchesne, Utah) and the Ute Mountain Ute Tribe including the Weeminuche Band of Ute.
To learn more about the controversies surrounding the Bears Ears National Monument (first declared at 1.35 M. acres in 2016, then reduced by 85% in 2017, then returned to its original size in 2021) read President Barack Obama's Bears Ears National Monument creation in 2016, President Donald Trump's executive order size reduction by 85%; then President Joe Biden's restoration of the original boundaries for both the Bears Ears and the Grand Staircase-Escalante monuments in southern Utah.
Topics Discussed in Time:
Part One
Minute: 00:00 – 05:40 Introduction: Dr. Greg Thompson, Associate Dean of the University of Utah's J. Willard Marriott library for Special Collections, shares his insights and a little known story about Utah's Bears Ears country. Thompson explains how state leaders and citizens of Colorado first tried to combine the Southern Utes with other Ute bands on the Uintah Reservation (what is today the Uintah and Ouray reservation).
Minute: 05:40 – 19:08 Thomas describes the Utes way of life. The buffalo and the horse became an important part of the economy and lifestyle of the Utes. The arrival of the Mormon settlers in 1847 marked the beginning of outside settlers gaining interest in this region. Trading between Utes and outsiders initiates an ongoing conflict over the ownership of land.
Minute: 19:08 – 25:11 The cattle industry that involved eastern and European investors advocate for the Dawes Act; a land allotment act by President Grover Cleveland, the act's purpose was to assimilate the Utes, and all other American Indians, to European culture by obligating them to hold land and farm like white settlers. In an attempt to hold their lands and way of life, and in response to deep ill treatment, the Meeker Incident (1879) took place. The proposed Ute San Juan Reservation was in part a response to this (first attempt in 1883). The conflict that started with the general ideas expressed in the Dawes Act (1887), are still present today.
Minute: 25:11 – 30:40 The Hole-in-the-Rock expedition (1879) assigned Mormon colonial settlers to head down to San Juan County and establish a permanent settlement. Mining in Colorado, Southern Utah and the San Juan region prompted the cattle industry to import cattle from Texas and Kansas in the late 1870s. Maintaining large herds of cattle became a challenge, even more after the silver-based mining collapsed due to deep economic downturns.
Part Two
Minute: 00:00 – 09:50 Thompson speaks on the arguments against San Juan County Utah as a Native American reservation, and the changing political landscape caused by the development of roads, railroad built through the Colorado reservations (Denver and Rio Grande Western Railroad) and population growth that brought settlement and demands for taking Indian lands.
Minute: 09:50 – 18:08 The federal government and Utah state government officials worked together to keep Colorado Southern Utes out of San Juan County. Reformers, cattlemen, Mormon settlers, business owners and absentee investors/owners managed to convince the House of Representatives not to pass this reservation act which had passed the US Senate. Because of the inconsistent behavior on behalf of the federal government and persistent fading of horse and cattle, Chief Ignacio of the Weeminuche band, led a vast number of Colorado Utes and their remaining cattle, horses and goats into Dry Creek, San Juan County, anticipating the act to pass. He considered the area ancestral lands of the Ute (as was the case with other regional tribes).
Minute: 18:08 – 26:32 By mid-decade of the 1890s, territorial governor Caleb West, brought the Utah National guard to San Juan County, with the intention of preventing bloodshed. After the bill did not pass, the House of Representatives, government officials ordered the Utes to pack their belongings and leave San Juan. After testifying before the US Congress and meeting with the President to advocate for his people, Chief Ignacio proposes for the Utes to settle on the west end of the Colorado Reservation. San Juan County ultimately does not become a reservation even though the area is part of ancestral lands of the Ute, even to the present.
---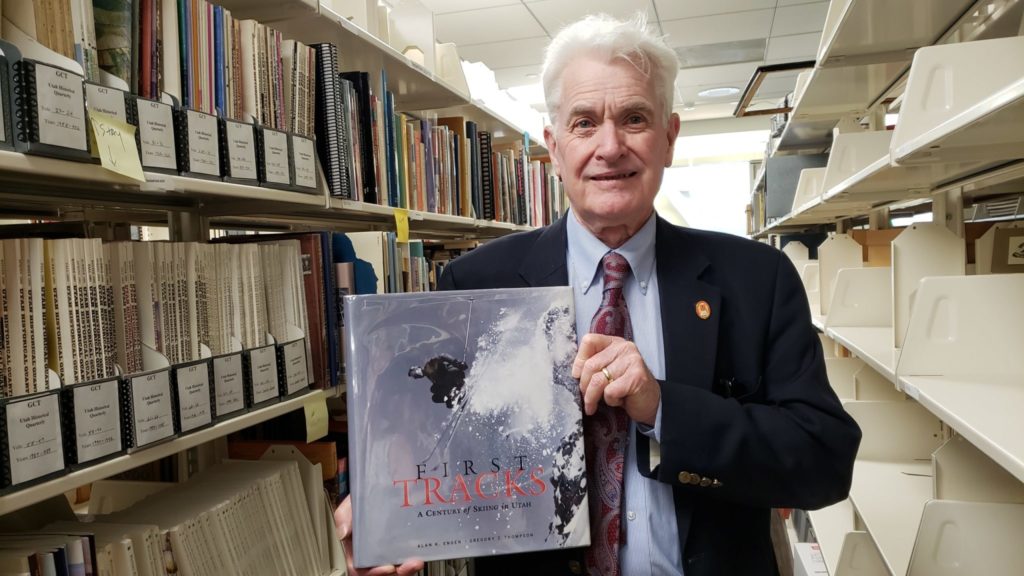 Bio: Dr. Gregory Thompson, Associate Dean of the U of U Marriott Library for Special Collections and Adjunct Assistant Professor of History, retired in 2021. With degrees from Colorado State Univ. (1965) and Fort Lewis College (1967) and a Master and Doctoral degrees from the U of U (1971 and 1981), Thompson directed, collected, presented, wrote, mentored and shared the history of Utah and the American West for over a half a century. His own research focus was on the Ute tribes of Colorado and Utah. To learn more about Greg Thompson click here.
---
Additional Resources & Readings:
Journalist Johathan Thompson, also describes briefly to Radio West host Doug Fabrizio, this little known late 19th century, Colorado and US Congressional effort, to make Utah's San Juan County a reservation for the Colorado's Southern Utes, in this Sept. 23, 2021 episode entitled "'Sagebrush Empire' and The Battle Over Public Land."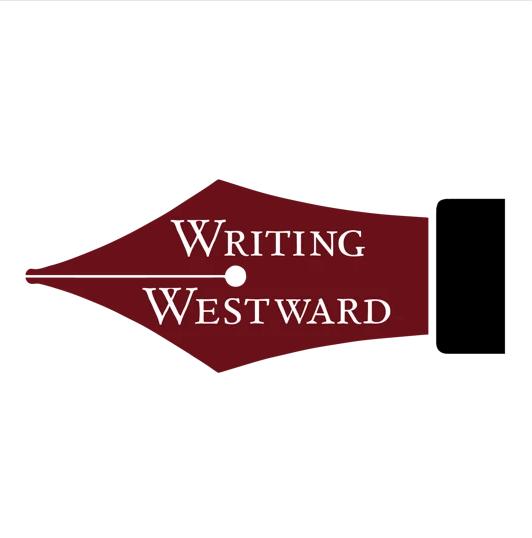 Want to hear more Western history podcasts —Writing Westward features conversations with writers of the North American West, sampling from a variety of disciplines and subfields. The podcast is hosted and produced by the Redd Center Associate Director, Dr. Brenden W. Rensink.
This paper, Southern Ute Lands 1848-1899; The Creation of a Reservation by Gregory C. Thompson places Ute people in time and helps understand a portion of their history. He details what is known about early Ute history, U.S policy, treaties, and the establishment of a permanent reservation for the Southern Utes in southwest Colorado. You can read it for free through University of Utah's J. Willard Marriott Digital Library.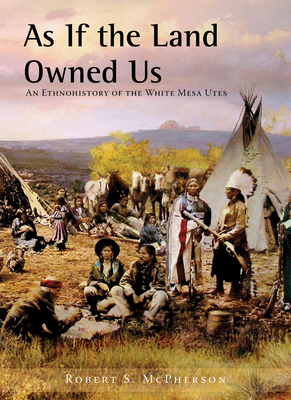 In As If the Land Owned Us, Dr. Robert McPherson shares the insights he was given by the White Mesa Elders about their land and teachings. McPherson combines historic events and the ethnohistory of the White Mesa Utes. Click here to see this publication and other written histories by Robert McPherson.
---
Do you have a question or comment, or a proposed guest for "Speak Your Piece?" Write us at "ask a historian" – askahistorian@utah.gov