Salt Lake West Side Stories: Post Twenty-Six
By Brad Westwood
During the second industrial revolution (1865-1920), the United States absorbed a large population of immigrants from eastern and southern Europe. These new pioneers joined other immigrant groups in working in Utah's expanding mining, industrial, and transportation sectors.
Most of Utah's Italian immigrants arrived in Utah after the 1890s.  The majority of Italian Americans worked in mines located to the east and west of Salt Lake City. Others found employment in the Carbon County coal fields or working for the then expanding Denver & Rio Grande Western Railroad.
These earliest Italian Immigrants to the west side lived in boarding houses nearby and between the Union Pacific Railroad and Denver & Rio Grande Western maintenance facilities and depots. Today, the Greek Town UTA Trax station, located at 550 West and 200 South, sits at what was once SLC's Little Italy. Scores of Italian and Greek Americans-owned butcher shops, bakeries, barbershops, saloons, grocery and drug stores, tailor shops, and many other small businesses in overlapping communities. Many owners lived above their businesses in small apartments. Little Italy and Greek Town were small but thriving residential and retail districts, located just blocks somewhat in the shadows of Salt Lake City's bustling Main and State Streets stores.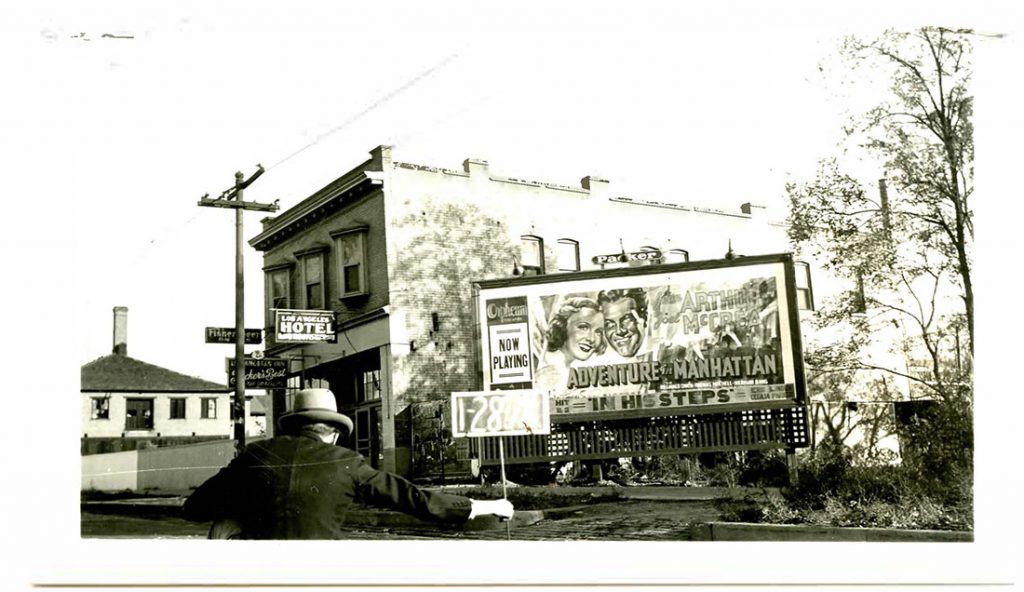 Besides stores and taverns, Utah's Italian Americans created community via newspapers. Articles in the Ii Minatore (1908–1909), La Gazzetta Italiana (1911–1917), and La Scintilla (that later merged with the Corriere D'America) included labor unions topics, local and national news, and informative stories about happenings in Italy. Italian Americans also had a strong religious presence in Salt Lake City. In 1920, the Salt Lake's Roman Catholic Diocese opened a mission to aid newly settled Italian immigrants. This same mission later served the Spanish speaking populations who followed them in and around Little Italy and Greek Town. Between newspapers, stores, taverns and church attendance, Utah's Italian Americans developed strong connections, with one another and to their native country, which continues even to the present.
Other organizations opened to help Italian American Utahns navigate their new surroundings. For example, beginning in 1890, the firm of Fotunato Anselmo & Co. served as the Italian Vice Consul for thirty years. Initially, the firm was located on West Temple Street until moving across the street from the Denver & Rio Grande Western Depot, located at 270 South and Rio Grande Street. Through Anselmo's office, Italian Americans accessed immigration, travel and banking services, the latter via the Bank of Naples. They could also arrange to have their letters, legal documents, and forms translated to and from English. Italian American-business owners helped immigrants to establish communities, understand the American legal, economic, and tax system, and to build communities with others.
Stories from Italian Americans help us to understand what life was like for immigrants living in Utah. For instance, Monsignor Joseph M. Mayo of the Roman Catholic Diocese of Utah described his grandfather arriving first at Ellis Island before traveling by train to work in the coalfields of Carbon County. Mayo's grandfather lived with his family in Columbia, Utah, before moving to the Pioneer Park neighborhood. Mayo's former home is now where the Utah Transit Authority Headquarters is currently located.
The Mayo family attended St. Patrick's Roman Catholic Church located at 1058 West and 400 South. The church's congregation initially consisted of Italian, Syrian, and Armenian immigrants, and later served Chicanos, Latinos, Pacific Islander, Tongan, and Vietnamese Americans. Today, St. Patrick's Roman Catholic Church holds a mass in Korean. The Mayo family is but one example of the thousands of Italian Immigrant citizens who settled in Utah, and who contributed in a multi-generational way to the state's history and culture. Today, Salt Lake City's annual Festa Italiana honors this legacy every September in the Gateway, which is located where the Union Pacific rail yards once existed.
Of course, Italian immigrants were not the only Mediterranean Europeans to live and work in Salt Lake City. A large population of Greek immigrants also worked and lived on the west side. Leonidas G. Skliris, a Salt Lake City-based Greek labor agent, was responsible for bringing thousands of Greek immigrants to Utah. Arriving in 1897, Skliris opened a headquarters at 507 West 200 South, which today is across from the southwest corner of the Gateway Mall. In 1905, a domed Greek Orthodox Church was built a block west of Pioneer Park and a historical plaque marks its location. Up until 1923 a person leaving the Denver & Rio Grande Western Railroad Depot could see the dome in the distance. Greek Town was home to coffeehouses such as the Parthenon and the Open Heart (seen in the image above) where Greek immigrants often gathered. Greek Americans owned stores, newspapers, and other commercial enterprises that served their growing communities.
Italian and Greek neighborhoods sprang up in mining towns and other districts across Utah. Utah historian and folklorist Helen Zeese Papanikolas was born near Castle Gate in Carbon County and attended high school in Helper and in Salt Lake City. She graduated from the University of Utah and was later awarded an honorary doctorate, honoring her contributions to Utah history and culture. She became a Fellow of the Utah State Historical Society in 1975. Papanikolas founded the Peoples of Utah Institute in 1977, which was committed to sharing as many of Utah's ethnic minority stories as possible. The Institute also helped to establish the Hellenic Cultural Museum in Salt Lake City, located at 279 South 300 West. The older of two Greek Orthodox cathedrals is kitty-corner to Pioneer Park. Every September, Utah's Greek community welcomes tens of thousands of citizens to its annual Greek Festival.
Immigrants from eastern and southern Europe moved into Utah, became involved and engaged citizens of Utah's populace. They forged unique cultures on the Wasatch Front and in the Great Basin by combining their native traditions with American ones.
Immigrants from eastern and southern Europe moved into Utah, became involved and engaged members of Utah's populace. They forged unique cultures on the Wasatch Front and in the Great Basin by combining their native traditions with American ones. They also settled in micro-communities that made and continues to make Salt Lake City's west side a diverse and busy place.
In the next installment of Salt Lake West Side Stories we will explore the history of Utah's Japanese American communities, many of whom called the west side their home.
Would you like to read the next post? Japanese American Communities on the West Side
Click here to return to the complete list of posts.
---
Related Activities: Plan to attend Salt Lake City's annual Festa Italiana and the Greek Festival both held seperately in September. You may also request a tour of the Greek-owned Utah related artifacts housed at the Hellenic Cultural Museum.
Contributors: A special thanks to Mike Korologos, Phil Natorianni, and Michael Homer for contributing to the contents of this post. A profound gratitude to Lisa Nelson and the narrators at the Utah State Library's Reading for the Blind Program for creating the audio for this post.
Selected Readings:

Phillip F. Notarianni, interviewed by Brad Westwood, November 1, 2019. Notes in possession of the author.

— "Utah's Ellis Island: The Difficult 'Americanization' of Carbon County," in Being Different: Stories of Utah's Minorities, Stanford J. Layton, Ed., (Salt Lake City: Signature Books, 2001), 167-182.

— "Italian Community," in Leslie G. Kelen and Eileen Hallet Stone, Missing Stories: An Oral History of Ethnic and Minority Groups in Utah (Logan: Utah State University Press), 247-254.

— "Italiana in Utah: The Immigrant Experience," in Utah State Historical Society, Helen Z. Papanikolas, Ed., Salt Lake City, 1976, 303-333.

–"Short History of the Italians in Utah," in The Peoples of Utah chapter Italiana' in Utah: The Immigrant Experience, by Philip F. Notarianni, https://sites.google.com/site/utahitaly/Home/short-history-on-italians-in-utah.

Monsignor Joseph M. Mayo, Interviewed by Brad Westwood, October 26, 2019. Notes in possession of the author.
Do you have a question or comment? Write us at "ask a historian" – askahistorian@utah.gov