By Ellen Fagg Weist | Photography by Todd Anderson
First came the blessing of the seeds.
On a dramatically overcast spring evening, Mayan artist Maria Elena Ku'lub Gomez offered a prayer in her native language, Tzeltzal. Her words were infused with the smoky scent of copal tree resin burning over a ceremonial corn-studded altar incorporating 13 seeds and flowers.
Next came the planting of a milpa plot at Salt Lake City's Rose Park Community Garden. A milpa combines the Three Sisters plants — corn, beans and squash — to maximize the growth and nutrients of all three.
"The family is growing in one place," says Fanny Guadalupe Blauer, a board member of Artes de México en Utah, which partnered with Wasatch Community Gardens to sponsor the Sabores de mi Patria (Flavors of My Homeland) events.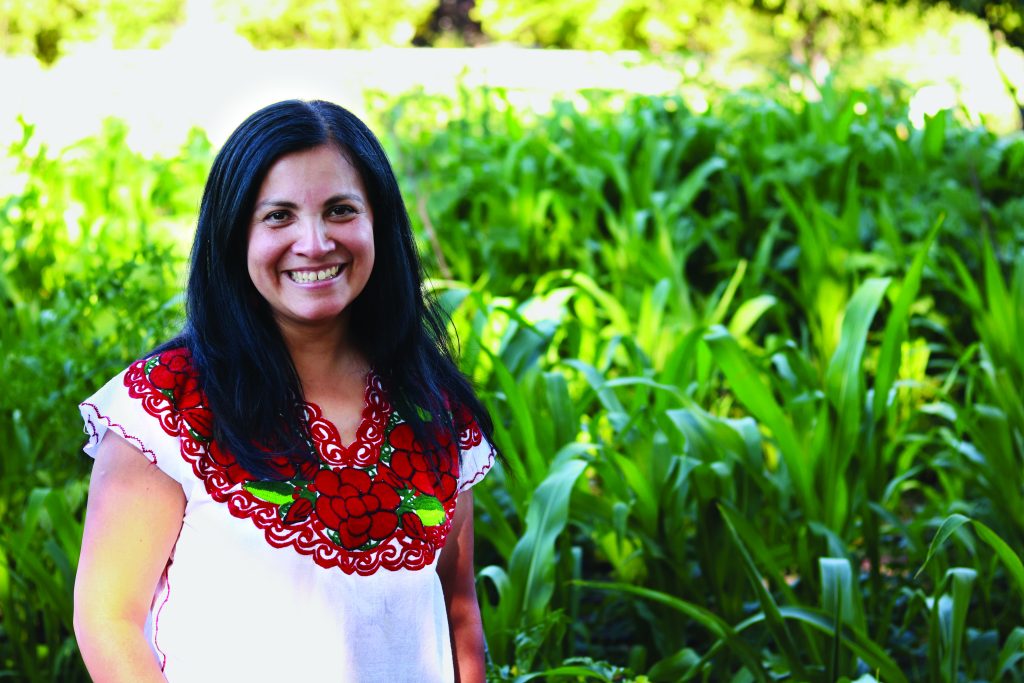 The series established Three Sisters garden plots on the east bank of the Jordan River in Rose Park and at Mary L. Jackson Elementary School, just a few miles to the north. That idea of growing community is underscored by a wide range of initiatives throughout Utah that are helping younger generations rediscover Native food traditions.
In a milpa plot, corn seeds are planted with beans in a small mound of dirt, and as they grow the cornstalks offer a climbing platform for the beans. In turn, the beans add nutrients to the soil, while the squash plants planted in the same mound offer shade "like a carpet," says Susan Finlayson, program director of Wasatch Community Garden.
In Rose Park, the planting ritual was overseen by three Mayan women: Gomez, a visiting artist for the Utah Museum of Natural History, and her sister Guadalupe Ku'lub Gomez, both from the Chiapas region of Mexico; and their hometown friend Rosita Mendez, who now lives in West Valley City.
Planting was made further memorable due to a sudden rainstorm, which organizer Blauer termed "a baptism" for the rows at the southwest end of the garden.
At a July event, Mary Beth Janerich, Wasatch Gardens community education director, explained how the Three Sisters plants had suffered from an earwig invasion, prompting gardeners to place small cups of oil and soy sauce in the middle of the rows as traps.
People in Mexico cultivated corn for some 10,000 years, researchers believe. When Spaniards came to the region in the 16th century, they took corn plants home with them, and the easy-to-grow plant quickly became a staple.
But colonizers didn't understand traditions such as the process of nixtamalization, in which corn seeds were treated with alkali substances, such as lime. They didn't understand why corn, beans and squash were planted together, to add essential nutrients into the soil, said Bonnie Jean Knighton, an educator from the Utah Museum of Natural History.
That led to the spread of a pellagra epidemic across Europe and eventually in the Southern United States, until scientists discovered the serious effects of the missing nutrients.
In Rose Park in July, the milpa plants were thriving and had been blessed by some gifts of colorful painted rocks to mark the rows. The plot provides the opportunity to come learn together, Blauer said, as she invited guests to return in October and exchange recipes at Sabores de mi Patria harvest events.
REPLANTING NATIVE TRADITIONS ACROSS UTAH
Organizations across the state are launching initiatives to propagate tribal knowledge of plants and Native foodways.
WELLNESS GARDEN >> One example is the second season of a Wellness Garden growing in raised beds at the Urban Indian Center of Salt Lake City, in partnership with Wasatch Community Gardens. It's a work-in-progress, thought to be one of 18 gardens at the country's network of 40 Indian health centers, says executive director Maurice "Mo" Smith.
"I think we're going to see more of these," Smith says. "Native gardens are being funded as an approach to restoring the ancient knowledge of traditional native food."
NAVAJO SPINACH AND SOUTHWEST PEACHES >> A Utah State University-trained research is studying Navajo spinach, also known as the Rocky Mountain Bee Plant, which once grew abundantly along roadways of the Navajo Reservation. The plant was once so significant, Reagan Wytsalucy says, it was considered to be a Fourth Sister.
For Wytsalucy, now a USU extension agent in Monticello, learning about the sowing and planting dates of the spinach is a current priority. She is applying for funding to continue researching both spinach and Native American Southwestern peaches.
UTE BISON >> In Northeastern Utah, Ute tribal officials are interviewing elders to understand more about traditional foods and foodways. In appreciation of the tribe's history as avid hunters, they've launched Ute Bison to sell jerky and sausage. The company is awaiting federal approval to ship fresh and frozen bison meat outside the reservation, says Latashia Redhouse, former marketing and communication manager for Ute Tribal Enterprises, based in Fort Duchesne.
"Moving in this direction is really honorable for us," Redhouse says, as it highlights traditions that younger tribal members have moved away from.
Another significant effort are "Ute Inspired" dishes added to the menu earlier this year at Fort Duchesne's Ute Crossing Grill, the only Native American-owned and -operated restaurant in northeastern Utah. New dishes include ingredients such as berries, blue corn and bison, and are spiced with sage and sumac. Tribal officials hope the restaurant can help train a new generation of native Ute chefs.
FOUR CORNERS POTATO >> There's also the media darling of the Four Corners potato (Solanum Jameii), a wild potato recently rediscovered by University of Utah researchers. They had puzzled over potato starch residue found on 11,000-year-old grinding tools at an archaeological site in the Escalante Valley.
U. archaeologist Lisbeth Louderback and research partner Bruce Pavlik, a botanist and conservation director at the U.'s Red Butte Garden, found five sites where the potato grew wild in the Escalante area, once known as Potato Valley. Native hunters and gatherers lived in the area for thousands and thousands of years, but over time knowledge of the wild tubers had faded among white people.
The small, nutrient-packed tuber has three times the protein and two times the calcium and iron as organic red potatoes.
Pavlik has cultivated the Four Corners potato in Red Butte's greenhouses and is working with Native experts to explore commercial opportunities.
THIRD ANNUAL INDIGENOUS DINNER >> The state's highest-profile showcase of Native cuisine is Utah Diné Bikéyah's third annual Indigenous Dinner. This year's $100-per-plate fundraiser is scheduled in October at the Utah Cultural Celebration Center, featuring chefs and activists M. Karlos Baca (Tewa/Diné/Nuche) and Josh Nez (Diné).
---
---
Read More MUSE Stories: