Date: June 21, 2021 (Season 3, Episode 7; 55:28 minutes). Click here for the BuzzSprout version of this Speak Your Piece episode. The image above is the current 2011 version of the flag of Utah. Courtesy of John Hartvigsen (Retired Vexillologist, Colonial Flag Company).
Podcast Content:
In this Speak Your Piece episode, three guests: Political Historian Ronald Fox, State Representative Stephen Handy and State Senator Daniel McCay, discuss the idea of a new flag for Utah. Law SB-48 which was passed during the last legislative session (sponsored by Handy and McCay) and signed by Governor Spencer Cox, does not actually call for a new flag, but creates a task force to look into the possibility of one.
If you are supportive of the idea, against it, or you want to hear more regarding the matter, here is the place to start.
Why did it take so long for Utah to receive an official state flag after statehood? Interestingly, Utah did not have an official territorial flag during the territorial period (1850-1896) and Utah's first flag was not approved until fifteen years after statehood in 1911. Why were no flags proposed or approved for Utah for over a half a century? Write to us using the email listed below.
Podcast Episode:
This episode also includes the history of Utah's current flag and outlines SB-48's intentions. Governor Spencer Cox's June 14th, American Flag Day press release, announced that he will, at least initially, serve as chair of the task force, joined by Lt. Governor Deidre Henderson, Jill Remington Love, Executive Director of the Utah Department of Culture & Community Engagement, along with three state senators and three state representatives, all to offer a transparent and all encompassing statewide process, for considering the idea. See also the below "Topics Discussed in Time " list.
Bio: Senator Daniel McCay represents District 11 (R-Riverton, Draper and Bluffdale), and was formerly a member of the Utah House of Representatives, representing District 41 (R-Riverton and Bluffdale) from 2013 to 2018. Among numerous other committee and subcommittee assignments, McCay serves on the Infrastructure & General Government Appropriations Subcommittee and the Natural Resources, Agriculture & Environmental Quality Appropriations Subcommittee. McCay earned a JD from Willamette University, and professionally is an attorney, real estate portfolio manager and vice president of the Suburban Land Reserve, Inc. He lives in Riverton with his wife, Tawnee, and their six children.
Bio: Representative Stephen G. Handy (R-Layton) represents Utah's 16th Legislative House District. Appointed in 2010 he has been re-elected five times thereafter. Two of his committee assignments include serving as Chair of the Political Subdivisions Committee, and as a member of the Public Utilities, Energy & Technology Committee. Handy also serves as co-chair of the Utah Legislature's Bi-Partisan Clean Air Caucus. Handy owns a public relations and marketing firm which he launched after 17 years as the marketing director for the Ogden Standard-Examiner and the Deseret News. A graduate of the U of U, Steve has a bachelor's degree in English and a masters degree in Human Resources Management. He and his wife Holly, have six children and 16 grandchildren and have lived in Layton for 42 years.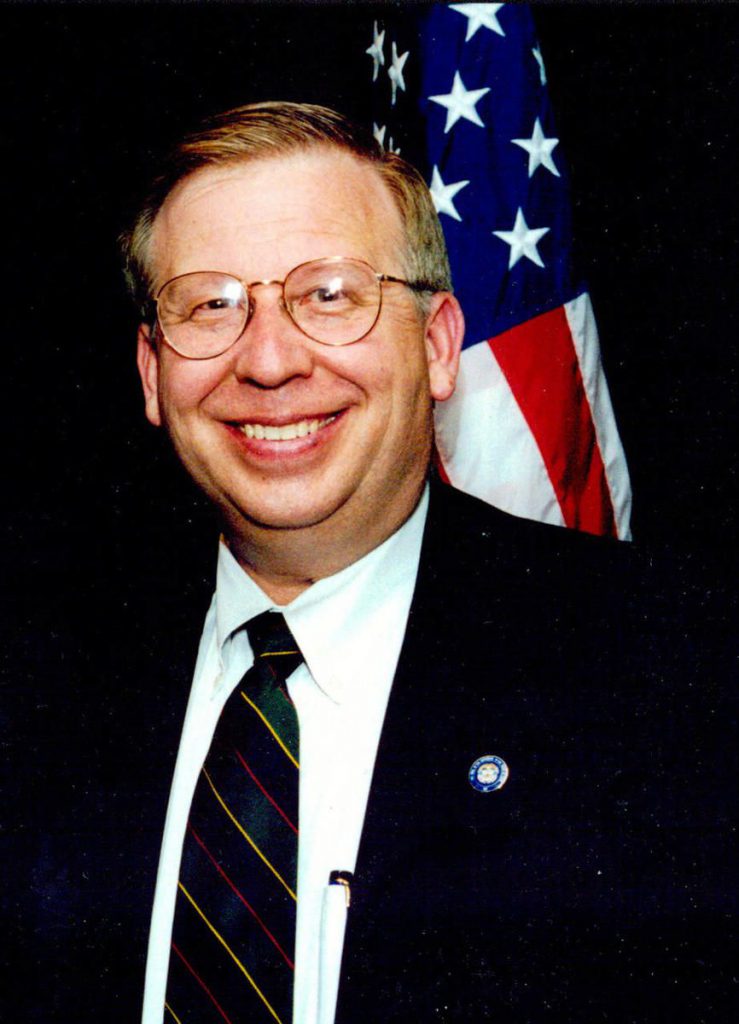 Bio: Ronald L. Fox is a long-time rare book, artifact and photograph dealer. He is also an author and political historian, and a former owner of a public affairs firm focusing on government advocacy. Fox has served as an advance coordinator for Executive Branch visits to SLC from Washington, D.C., and he served on the Utah Martha Hughes Cannon Statue Committee. He was recently appointed by Utah Governor Spencer Cox, to be a co-chair of Utah's Semiquincentennial (1776-2026) United States of America Committee.
Additional Resources & Readings:
Utah State Symbols by Linda Thatcher, Utah Educational Network
"2001 State/Provincial Flag Survey" [The full report was published as: Edward B. Kaye, "Good Flag, Bad Flag, and the Great NAVA Flag Survey of 2001," Journal of Vexillology, vol. 8 (2001), p. 11-38.]
"Task Force to Design a New Utah State Flag Will Include Gov. Cox, Lt. Gov. Henderson, and Six Legislators," Utah Governor Spencer Cox's webpage, June 14, 2021
Lee Bensen, "Why Utah's preeminent flag-lover loves Utah's state flag," Deseret News, August 4, 2019
Topics Discussed in Time:
Minute: 00:00 – 02:40 Introduction: During the 2021 Utah Legislative Session, Senate Bill 48 was approved, this bill created a Utah State Flag Task Force and initiated the process for reviewing and potentially designing a new state flag if that is what the public favors. Today's guests discuss the ideas, principles and symbolism driving this idea. Political Historian Ron Fox, is also joining the conversation to share the history of Utah's current state flag.
Minute: 02:40 – 04:30 The study of world flags both historically and in the creation of new flags, is called Vexillology, those who study flags and banners are called Vexillologists. Flags are pieces of fabric that are rich with meaning and symbolism.
Minute: 04:30 – 08:35 Representative Handy and Senator McCay share the origins of Bill 48. Senator McCay describes his initial resistance regarding the proposal for a new Utah's flag. After attending a conference where all of the US state flags were on display, he realized just how powerful, beloved and symbolic the most popular flags are to their respective states (New Mexico, Maryland, Texas, Arizona and Colorado, to name a few). McCay describes these flags as "market tested," and are deeply integrated with the state's identity. There are lots of commercial and tourism appeal with these popular flags. McCay challenges listeners to find Utah's seal and flag on hats, shirts to purchase online and then compare this to the more popular state flags.
Minute: 08:35 – 15:32 Handy and McCay explain the process for the new Utah flag campaign, how the final decision will be made and how citizens can become involved. Handy describes how this idea first came to him some years ago by way of a group of young constituents. Both Handy and McCay explain how important it is for them to receive public input and start a public discussion through the Utah Flag Task Force, instead of a flag created or approved solely via a legislative process. At the time of this recording (June, 2021), discussions regarding the proposal for a new flag at the 2022 ballot has already commenced. This bill and its intentions are important enough that Utah Governor Spencer Cox and Lieutenant Governor Deidre M. Henderson, are both serving in this committee, at least for the time being.
Minute: 15:32 – 23:45 Political Historian Ron Fox narrates the history of the current state flag. Utah did not have an official flag until 1911; notwithstanding being granted statehood fifteen years before in 1896. The Utah Territory (1850-1996) also did not have an official territorial flag. The current flag came about when the Louisiana Purchase Exposition (1903-1904) Commission requested a state flag for Utah. Utah offered the commission a Governor's Flag. Eventually in 1911 the State Legislature approved the prior Governor's Flag as the official flag of Utah — with some intentional and unintentional changes. In 2011 the most recent design was approved and June 9th was made Utah's official State Flag Day.
Minute: 23:45 – 30:20 The symbolism in the current flag is rich in meaning. Each symbol or element is explained by Ron Fox. Fox, Handy and McCay believe that Utahns no longer need be worried about proving themselves as Americans. McCay and Handy believe a new identity expressed in a new flag is need for a 21st century Utah.
Minute: 30:20 – 37:22 Contemporary Utah is one of the fastest growing, and per capita, the youngest state in the nation (average median age is 29 or 30). Utah is experiencing rapid growth in population, industries, diversification and businesses. This "rising generation" can not relate to Utah's current flag. The new flag will be a flag for everyone without compromising Utah's prevailing principles, traditions and history.
Minute: 37:22 – 48:25 Guests respond to criticism received against Bill 48. McCay, Handy and Fox address concerns in regards to a replacement being an erasure of history. Any new proposals will both look forward and respect Utah's history.
Minute: 48:25 – 55:28 Senate Bill 48 offers an opportunity for the public to revisit Utah's values and principles. Senator McCay and Representative Handy want to open an honest dialogue about what Utah now represents. Many Utahns are sending unsolicited new flag designs to McCay and Handy. The public engagement process—the whole state getting involved in this matter—is also a good model for the proposed Museum of Utah, which is stated to be built as part of a new North Building on the Utah State Capitol Complex.
Do you have a question or comment? Write us at "ask a historian" – askahistorian@utah.gov