Volunteers record and guard the state's precious archaeological sites.

By Ellen Fagg Weist | Photography by Keith Johnson
TOOELE VALLEY > This morning's fog makes everything look mysterious as we head to the West Desert to see rock art.
It's a gray January Saturday in-between snow storms, so access roads have turned into mud wrestling pits under our tires. On this field trip led by Bureau of Land Management archaeologist Michael Terlep, photographer Keith Johnson and I have joined Rachel Picado and Mike Griffin on a visit to the sites they've volunteered to protect.
Picado and Griffin are volunteers for Utah's Heritage Stewardship Program, two of more than 100 stewards trained to observe and protect prehistoric sites throughout the state. The BLM-funded program is one partner of the Utah Public Archaeology Network, spearheaded by Elizabeth Hora, Utah's public archaeologist. Hora is leading a campaign to publicize the state's "big audacious goal" of zero archaeological vandalism in 2020. In January, more than 80 stakeholders from 44 government agencies, nonprofits and American Indian tribes attended the first UPAN meeting.
The threat of vandalism is real, Hora admits. But she's coordinating an effort to collect and share data about archaeological sites, while publicizing educational programs alerting outdoor recreationalists to the fragile nature of rock art. "There is absolutely no reason why we need to lose anything else here in Utah," Hora says.

Griffin and Picado are part of the front guard against damage to Utah's prehistoric sites. These Tooele Valley sites were originally cataloged in the 1970s and '80s, but Picado's site has some additional pictographs missed in original surveys.

When most people think of indigenous rock art — or "rock writing," the term preferred by some tribal elders — they visualize the grand billboard-style art panels in the Four Corners area. But other Utah regions are also rich with rock writing.

In Northern Utah, for example, carved figures were carved into horizontal limestone or sandstone rocks. Some sites appear tucked away, many existing on private land. Some sites have been recorded in advance of construction projects, but little funding has been available for more extensive research. Vandalism is a constant threat.

The sites we're visiting this morning are thought to be from the Archaic (7,000–100 B.C.) and Fremont (100 B.C.– A.D. 1300) periods. Terlep describes the images as curvilinear, rectilinear, and representational, featuring wavy lines, cross hatching and both animal-like and human-like figures. "Great Basin rock art is commonly abstract" in earlier periods, Terlep says.
Utah's heritage stewardship program was launched by Friends of Cedar Mesa. Some volunteers work with archaeologists and learn to record rock art sites or help with research, says Wanda Raschkow, an archaeologist for the Friends of Cedar Mesa who coordinates the stewardship program.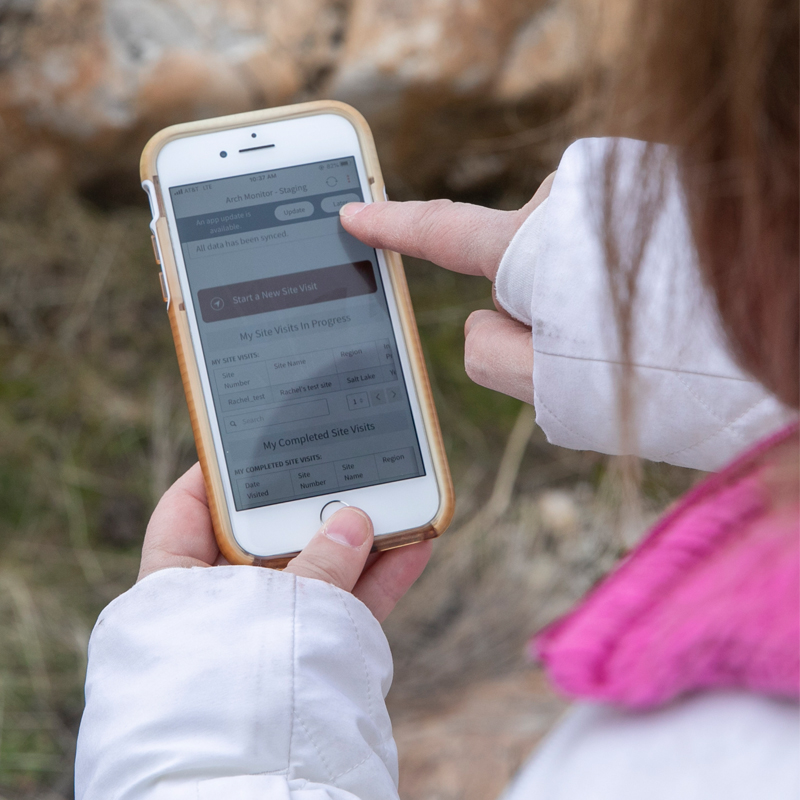 Raschkow helped develop the first-of-its-kind Arch Monitor phone app. Through the app, stewards shoot baseline photos of their sites, and then update land managers about natural weatherization or human-caused vandalism. This year, the Utah Legislature passed a law establishing a cultural site stewardship program to be administered by the Division of State History.
Griffin says his interest in rock art helps him choose routes for regular hiking explorations. "I've been all over these mountains and areas a lot, always looking for more," he says. He frequently coordinates with land managers; last summer, for example, he alerted Terlep to rock art sites threatened by West Mountain's Goosepoint Fire.

Picado says she fell in love with Native American rock art as a Tennessee girl on a vacation with her family to Monument Valley. Decades later, that interest was one of the reasons she moved to Utah, and then prompted her to volunteer for the steward program.

She has briefed Maleku tribal leaders in her husband's native Costa Rica about the volunteer stewardship program. And later this spring, she and Terlep will travel to Israel to work with archaeologists and students at Israel's Ben-Gurion University to document rock art in the region.

"I don't even know how to describe what I feel when I go out to my site. It's kind of my happy place," she says on this misty morning as clouds shroud nearby hills. "I feel a sense of connection."

We head east, where we tramp up and down hills by a spring while Griffin scouts his favorite pictograph. "There he is," he says, pointing to a stick figure with a head, two arms and what look like feet with three toes. This character appears to be a cousin to one we saw earlier this morning near the shores of the Great Salt Lake.

"Where there is rock art, there is usually more," Terlep says. "I like to get people interested in the question: Why is this site here?"
---
MORE:
Sign up for Utah Public Archaeology Network's monthly newsletter as part of a campaign to combat vandalism: bit.ly/MUSEcombatvandalism.

To report archaeological vandalism, call the Bureau of Land Management's hotline: 800-722-3998.

To find out more about the Utah Heritage Site Stewardship program, visit: bit.ly/MUSEsitestewards.

Friends of Cedar Mesa hosts a "Visit with Respect" ambassador program. More information at: bit.ly/MUSErespect.