By Reneé Leta // Photographs by Maegan Castleton
Members of the Martin Luther King Jr. Human Rights Commission honored nine Utah students for their artistic entries in an art and essay contest to honoring Dr. King's principles of nonviolence.
The commission, a program of the Division of Multicultural Affairs, launched the contest for Utah students in 7th, 8th, and 9th grades. "When understanding spreads, so does friendship," says Ashley Johnson, a 9th-grade artist from Bluffdale, explaining the inspiration for her painting. "This is a job we are all responsible for as human beings."
Ashley Johnson selected the second principle of nonviolence from Dr. King — that nonviolence seeks to win friendship and understanding — for her artwork. She painted a gold strand through a chain of hands to represent the value of friendship, while the blue background evokes the peaceful world we want to live in. "Friendship is still spreading," she says, "and you can add your hands at the bottom of the piece to see how."
Students winners were selected from Davis, Salt Lake and Utah counties. Each winner received a Chromebook computer, courtesy of a partnership with Comcast, and were lauded by Gov. Spencer Cox and First Lady Abby Cox at the April 5 event at the Utah Capitol.
"It is our job and duty to make sure that the generations to come don't have to suffer injustice and discrimination," wrote Aroosh Kaleem, from West Valley City, in her essay. (She is pictured above with Gov. Cox and First Lady Abby Cox.)
9th grade winners:
• Ashley Johnson
• Aroosh Kaleem
• Ian Travis
8th grade winners:
• Demsey Bradshaw (depicted in the photograph below)
• Mary Grace Esplin
• Lulu Letting
7th grade winners:
• Phoenix Missman
• Kenneth Pedockie
• Mia Travis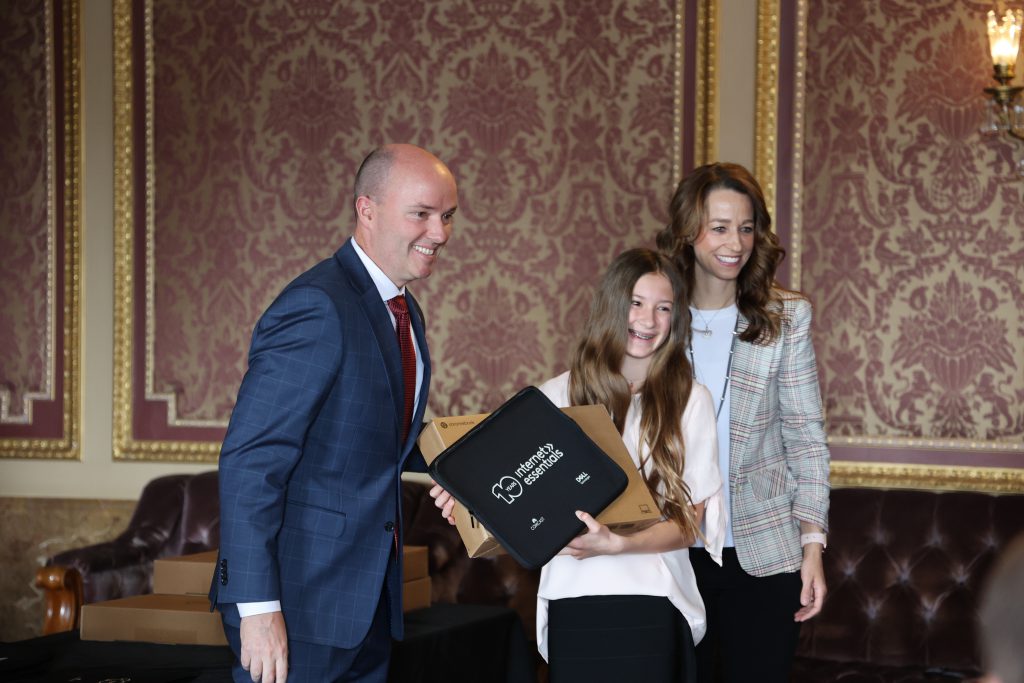 The Martin Luther King Jr. Human Rights Commission annually promotes Martin Luther King Jr. Day, held the third Monday of January, which is now a Utah and federal holiday. Part of the commission's responsibility is to continue Dr. King's legacy and vision of creating "beloved communities" for Utah residents.