Salt Lake West Side Stories: Post Eleven
by Brad Westwood
The Pioneer Park neighborhood underwent several changes related to post-Civil War industrialization. In the late nineteenth century, the Pioneer Park neighborhood became Salt Lake City's first warehouse district.
Today there are several warehouses that date back to the 1890s. For example, the W.S. Henderson Block spans from 379 West and 200 South and the ZCMI Warehouse still sits at 250 South and 500 West.
The railroad lines that snaked through the west side linked factories and warehouses to each other and to the rest of the nation. Running from the main Union Pacific line down 400 West were multiple projecting spurs that spread out to all points on a compass. There was also a spaghetti bowl of other company tracks spread across the neighborhood. The Pioneer Park also had two smaller trolley tracks running beside it, down the middle of 400 South. Expanding consumer wants and railroad connections to national and regional markets fueled the need for warehouses, for parts, materials, and goods manufactured in Salt Lake City. Industry also fueled employment opportunities and drew visitors and businesses alike to the west side.
In July 1915, because of the open spaces and adjacent railroad track that ran along the corner of 400 South and 400 West, the neighborhood hosted the Liberty Bell. The bell was originally forged in 1752 in London for Pennsylvania's Independence Hall and was named the "Liberty Bell" by slavery abolitionists in the 1830s. While in Utah, over 300,000 Utahns, visitors, and students from across the Intermountain West, passed and touched the great American symbol.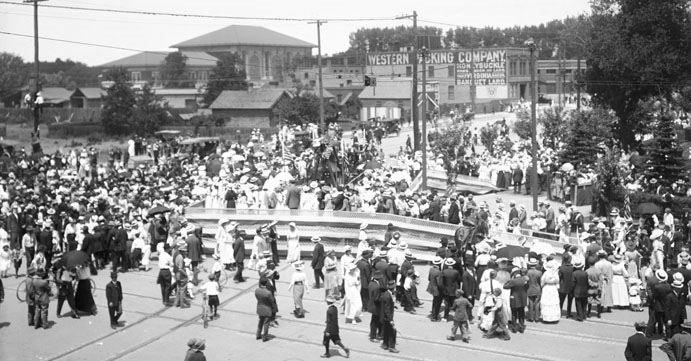 Salt Lake City's west side, followed by Ogden, served as the Intermountain West's earliest and largest center for employment and transportation. The railroads, allied industries, manufacturers, and the corporate-owned warehouses consistently sought out the least expensive labor, which attracted waves of "opportunity seeking" immigrants. Nearly all of Utah's subsequent smaller internal railroads along with its mills, smelters, and other industries, drew their workforce from immigrant communities that assembled, at least initially, or traveled to the west side for regional services, entertainment, and cultural connection.
The Pioneer Park neighborhood served as a depot for industrial goods, materials, supplies, and labor. It was a regional base camp for a dozen or more immigrant communities, who sold and distributed goods shipped from around the world. Chinese, Japanese, Italian, and Greek merchants, just to name a few, shipped and sold goods to company towns, railroad service centers, and mining camps across the region. The locations serviced included Terrance and Kelton, located on the north side of the Great Salt Lake, where Chinese and Japanese railroad section workers were employed. Salt Lake west side merchants sold and shipped goods to the Murray smelters, located eight miles to the South of Salt Lake City and to the Oquirrh Mountain mines, to West Mountain (Bingham), Little and Big Cottonwood Canyons, American Fork Canyon, Tintic District (Eureka), Mercur District (Tooele), Uinta District (Park City), and Carbon County, all with diverse immigrant labor communities.
"The Pioneer Park neighborhood served as a depot for industrial materials, supplies, and labor. It was also a regional base camp for over a dozen immigrant communities from around the world."
Many immigrant laborers who first settled in mining camps and small industrial towns across Utah, eventually moved to the west side for improved social, schooling, and economic opportunities. Industrial laborers from across the region, for over a hundred years, shopped, gathered, drank, attended community and religious gatherings, and found entertainment on the west side. Unlike the rest of Salt Lake City, it was the place where you could find or do just about anything. Because of this history, the neighborhood continues to be one of the city's most non-traditional and unique areas.
The Pioneer Park neighborhood was also known for its poverty. As the neighborhood was transformed to a transportation and manufacturing hub, it became the city's earliest "poor neighborhood." Other areas in Salt Lake City included the Avenues – considered poverty-stricken until the city built culinary water and sewer lines in the area – and Swede Town, which was located on the city's northwest side near the hot springs (around 840 West and 1500 North). The Pioneer Park neighborhood lowlands were known for its British and Scandinavian Mormon (members of The Church of Jesus Christ of Latter-day Saints) immigrants who lived and worked in the area. In the following decades, immigrants from Southern and Eastern Europe, China, Japan, the Ottoman Empire, Mexico, and South and Central America also moved into the area. In all, the Pioneer Park neighborhood housed and gave work to tens of thousands of opportunity-seeking people who contributed to Utah's social, cultural, and economic identity.
Join us for our next installment of Salt Lake West Side Stories, where we explore the religious history of Salt Lake's west side with a specific focus on non-Mormon denominations. We will also discuss schools and commercial enterprises that popped up in the area.
Do you want to read the next post (Post 12)? LATE NINETEENTH AND EARLY TWENTIETH CENTURY DEVELOPMENTS
Click here to return to the complete list of posts.
---
Related Activity: Salt Lake's west side has scores of industrial warehouses that you can view. The National Register of Historic Places Registration Forms provides information about buildings in the district. After reviewing the forms, walk around some, or all, of these buildings so that you can experience Utah's late nineteenth and early twentieth century commercial and manufacturing might.
Contributors: A special thanks to Ronald Fox (photographic and political historian, and owner of Fox Group, Inc.), and Allen Roberts (architectural historian, and senior principal at CRSA Architects) for contributing to the contents of this post.

This post was researched and written by Brad Westwood with a whole lot of help from friends. Thanks to our sound engineer and recording engineer Jason T. Powers, and to his supervisor Lisa Nelson, both at the Utah State Library's Reading for the Blind program. Thanks also to yours truly, David Toranto, for narrating this post.
Selected Works:

Read the John Crus Oral Interview, in Leslie G. Kelen and Eileen Hallet Stone, Missing Stories: An Oral History of Ethnic and Minority Groups in Utah (Logan: Utah State University Press, 2002), 288-294.

Ron Fox, "The Liberty Bell in Salt Lake City 100 Years Ago," Deseret News, July 10, 2015.

Don Strack, "Bamberger Railroad," UtahRails.Net (revised May 1, 2021).

"Warehouse District (Salt Lake City)," Wikipedia, a U.S. National Register of Historic Places Historic District bounties: 200 South and Pierpont Ave. between 300 and 400 West, and roughly bounded by I-15, US 50 S., W. Temple St., 300 West & 1000 South.
Do you have a question or comment? Write us at "ask a historian" – askahistorian@utah.gov