Salt Lake West Side Stories: Post Thirty
by Brad Westwood and Cassandra Clark
The Pioneer Park neighborhood offered several amenities to Utah residents and tourists alike.
After 1909, the park had one wading pool for women and one for men. It also had a framed bandstand that hosted musical performances on weekends. A craft house also welcomed the young and old to its hands-on activities and exhibits. During most of the first half of the twentieth century, the city also maintained picturesque graveled paths, shrubbery gardens, and raised flower beds.
During the 1930s and 1940s, the city constructed recreational fields in Pioneer Park. For example, Salt Lakers enjoyed the baseball diamond and fenced tennis courts located on the north end of the park. The baseball diamond joined Liberty Park, Central Park, and Riverside Park in welcoming Salt Lake City's first men's summer baseball league. Sporting events and other forms of entertainment offered a reprieve to the residents of the west side, in particular the realities of urban life, including railroad and trolley cars and tracks, coal and wood burning smoke, densely packed apartment houses and tenements and busy urban streets.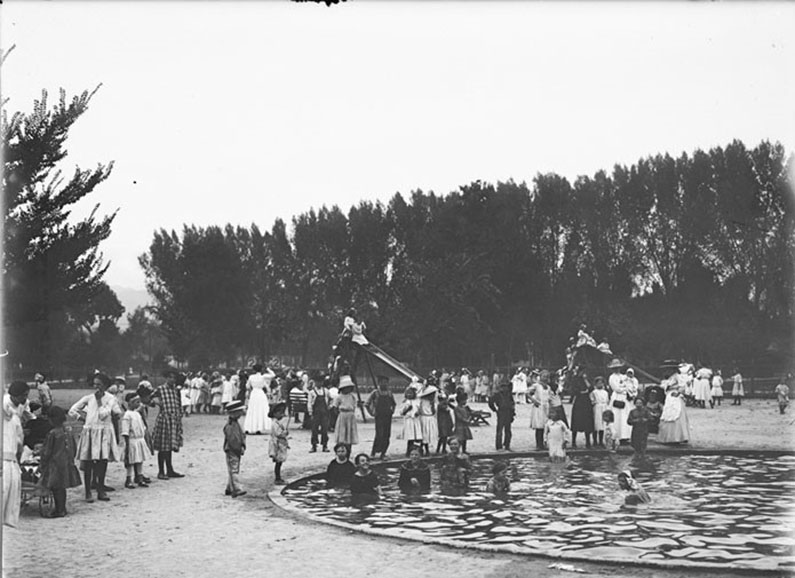 The city was dedicated to beautifying the west side. Park designers arranged for the planting of a three-foot hedge that spanned the border of the park along with a half a dozen trees spread throughout the park. Sometime during the mid-twentieth century, planners replaced previous landscaping of ground shrubs and raised flower beds and most of the playground equipment with grass and trees. Despite the changes, Pioneer Park remained a space dedicated to introducing aspects of nature into the inner city.
The park also became the site for other attractions that drew people to the space. For instance, in 1972 the park became the resting spot for the Union Pacific Railroad steam locomotive No. 833. The locomotive was originally built in 1930 and remained in Pioneer Park until 1999, when it was relocated to the Ogden Union Station Museum as part of the Utah State Railroad Museum collection. 
"The park offered west side residents a place to make memories and to interact with fellow neighbors and community members."
The park offered west side residents a place to make memories and to interact with fellow neighbors and community members. John Florez (1932-2016) grew up in the Pioneer Park neighborhood. During his life, he was a Latino community activist, a reporter for the Deseret News, and a staff member to U.S. Senator Orrin Hatch. Florez would often publish articles in the Deseret News, where he recalled memories from his childhood in the Pioneer Park neighborhood. He remembered the park as a place where whites, Mexicans, Greeks, Italians, African Americans, and Latinos/as "learned to get along and to become socialized—as much as possible" ("Pioneer Park was an Oasis," Deseret Morning News, May 17, 2004). In 2010 Florez offered the following recollection of the time he spent in the park:  
"The Pioneer Park I knew growing up was the place to be. It had summer concerts and a whole bunch of fun things for kids and adults to do that let them get out of their hot homes, when fans and a water hose were the only escape from the summer heat. Going to Pioneer Park was a family affair. Families from surrounding neighborhoods — Anglos, Mexicans and Italians from the west, blacks from the north and Greeks from the east — came together to play, picnic and, on Sundays, listen to brass band concerts performed by the city and postal service at the pavilion, the main gathering place in the park that also served as a dance floor and a stage to put on plays.

All week there was some kind of entertainment going on, and it was free. Next to the pavilion was a wading pool where kids splashed around, and swings, teeter-totters and tricky bars that today would not pass safety standards. Thursday evenings were special. That was outdoor movie night. People came early to sit around waiting for the sun to go down to start the movie. It was big, because there was no TV. Parents tried to keep us kids sitting down, even when the movie film kept breaking. There was a swimming pool, which was filled every Monday and was unheated. On Mondays, the water was freezing but did not keep us from jumping in every other hour — one for the boys and the other for the girls. In between swims, we would run to the farmers market nearby to see what watermelons might mysteriously fall off the railroad cars waiting to be unloaded; then back to the swimming pool.

During the week there were all kinds of fun things for kids — a baseball field on the northwest corner, tennis courts on the west and a large wooden building where a variety of arts and crafts could be found. It also became a studio where girls learned how to tap dance. The guys from the Douglas airplane model store would help us make model planes, a big deal for the boys, and then take us to Ensign Peak to fly them. We learned how to play soccer, ping pong, softball and tennis. Recreation leaders were looked up to with awe, especially Andy, who was so skinny and looked 10 feet tall, and always seemed to enjoy helping us kids learn basic skills.

While today we talk about a racial/geographic divide in our city, Pioneer Park was our own United Nations, where people from different backgrounds laughed and played together, including adults. There was a sense of community where folks relished the hot summer days and somehow communicated with one another in broken English or a panoply of different languages. Pioneer Park was the glue that created the community bond, and everyone got along.

The pioneers who came to Utah made Pioneer Park their first campground. Who would have thought they created heaven on earth for families to find a place where they could enjoy the hot summer and meet their neighbors from different neighborhoods?"

"Pioneer Park Has History of Bringing People Together," The Deseret News, July 19, 2010.
Florez's account demonstrates how his visits to Pioneer Park helped him to feel part of a larger community of diverse peoples. Of course, not everyone shared the same experience as Florez. While tolerance often enabled people to enjoy their time in the park, racist and gendered sentiments continued to shape daily the lives of people of color, LGBTQ+, and women, interacting within the park, and across the city. What is evident is that the Pioneer Park neighborhood was perhaps more diverse than any other part of the city. And at times, community members offered a good deal of mutual tolerance for one another. And finally, the many people who lived on the west side were, as much as any other group in the city, equal contributors to Utah's history.
Please join us for our next post in our Salt Lake West Side Stories where we will discuss the social and political challenges that residents of Pioneer Park faced during the twentieth century. 
Would you like to read the next post (Post 31)? Twentieth Century Changes to Salt Lake City's Original West Side
Click here to return to the complete list of posts.
---
Contributors: This post was researched and written by Brad Westwood and Dr. Cassandra Clark, with a whole lot of help from friends. Thanks to our sound engineer and recording engineer Jason T. Powers, and to his supervisor Lisa Nelson, both at the Utah State Library's Reading for the Blind program. Thanks also to yours truly, David Toranto, for narrating this post.
Selected Readings:

Rod Decker, Utah Politics: The Elephant in the Room (Salt Lake City: Signature Books, 2019).

History.com Editors, "The Great Recession," History.com, December 4, 2017 and updated October 11, 2019, https://www.history.com/topics/21st-century/recession.

John Florez, "John Florez: Pioneer Park has history of bringing people together," Deseret News, July 19, 2010, https://www.deseret.com/2010/7/19/20128780/john-florez-pioneer-park-has-history-of-bringing-people-together.

LeRoy W. Hooton, Jr., "The Metropolitan Water District, Salt Lake City, Provo River Project, Deer Creek Reservoir" Salt Lake City Docs, n.d., http://www.slcdocs.com/utilities/PDF%20Files/deercreek.pdf.

"Park History: For centuries, Pioneer Park has and continues to be a refuge for those who hope to make Salt Lake City their home," Pioneer Park Coalition (article no longer available).
Do you have a question or comment? Write us at "ask a historian" – askahistorian@utah.gov