---
---
---
---
---
---
Heritage & Arts Divisions
---
---
---
---
The Utah Commission on Service and Volunteerism was created by state statute in 1994 and is comprised of 20 members representing local government, community-based organizations, and statewide networks as well as 10 staff. Since its inception, UServeUtah has worked to inspire, equip, and mobilize individuals and organizations to take action to transform their communities.
As the state's central coordinating body for service and volunteerism, UServeUtah is responsible for developing, implementing, and sustaining a vision and culture of national service and community engagement within the state. We do this by building and cultivating capacity for effective national service and community engagement, promoting and inspiring national service and community engagement, and recognizing outstanding impacts made through service.
UServeUtah has a long history of advocating the value of volunteerism, training organizations on effective volunteer engagement, coordinating a statewide system to facilitate service, developing innovative AmeriCorps programs, and promoting Utah's national leadership in volunteerism.
Strategic Plan: As a State Service Commission, UServeUtah is governed by the Serve America Act, which mandates that all service commissions develop and annually update a statewide plan for service covering a three-year period that is consistent with the broad goals of the Corporation for National and Community Service (CNCS). Much of 2019 was spent in development of theUServeUtah 2020-2022 Strategic Plan. 
Plan development included an open and public process that allowed for maximum participation and input from a broad cross-section of individuals and organizations in Utah.  A public electronic survey was utilized which collected over 1,200 responses and listening tours were held across the state in eight locations including Logan, Vernal, Ogden, Salt Lake, Provo, Moab, Cedar City and St. George. At each listening tour session, a focus group was held with a standardized set of questions to identify both local and statewide needs and trends.  An independent consult was used for data analysis to help identify key areas of focus. 
The strategic direction and goals included in the plan are a response to the understanding of what stakeholders identified as challenges or issues across the state. The plan lays out a comprehensive framework based on guiding objectives and impacts.  More info on the plan can be found here.
Updated Mission Statement: The UServeUtah mission is to strengthen and unify Utah communities through national service, volunteerism, and broader community engagement.
---
---
Utah ranked as the #4 state in the nation for producing AmeriCorps members. Provo ranked as the #4 small city in the nation for producing AmeriCorps members, Salt Lake City ranked as the #10 small city.
---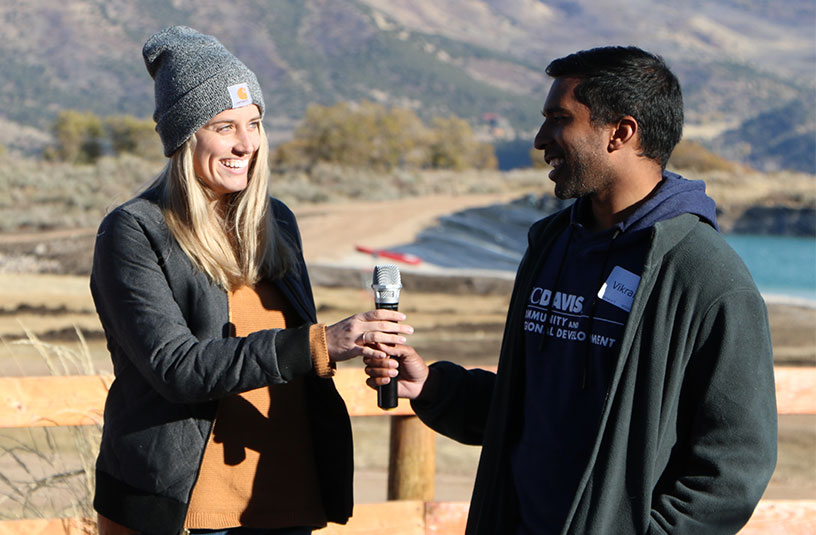 ---
Active Engagement Retreat
In 2019 UServeUtah hosted 92 young leaders at the Big Canyon Ranch in Wanship, Utah. Two days were spent doing team-building activities, networking, and exploring the Pathways of Community Engagement. Prior to attending the retreat, each participant takes a survey to determine which pathways fit with their personal and career interests. Throughout the retreat, they are challenged to find solutions for real-world problems within their pathway and to explore the interdisciplinary nature of all pathways. To conclude the retreat, participants are asked to set 30-day, 60-day and 6-month goals to develop in their chosen pathway.
---
Americorps Utah
The 2019 AmeriCorps Utah Member of the Year was Oswaldo "Ozzy" Demoura of the AmeriCorps Education Initiative of Utah (AEIOU) program. Oswaldo has been serving as an AmeriCorps Tutor Coordinator at Tolman Elementary for more than 3 years. Students and volunteers are always excited to come and learn. His enthusiasm for the student's learning and achievement is contagious and volunteers are eager to join in the work. He has organized his room in a way that volunteers know exactly what to do and where to go. He dives right into the work and leads by example. He tutors right alongside the volunteers and welcomes their input. Oswaldo takes time to get to know each student and motivates them with their interests. Every year he makes a craft for each student as an incentive. And it isn't a small thing! One year he made stars out of soda cans, another year he made awesome helmets from cardboard, and this year he made pencil toppers designed after the students' favorite characters. This personal touch helps the students to feel loved and valued. He has also inspired other AmeriCorps members by posting tips and tutorials on our Member Facebook Support Group. Oswaldo has lifted the hearts of students, teachers, parents, volunteers, and other AmeriCorps members with his enthusiasm and dedication.
---
UServeUtah Youth Council
2019 was the inaugural year for the UServeUtah Youth Council, a youth-driven advisory board comprised of several passionate and driven youth ages 16-22 from across the State of Utah. Youth represent each Utah public and private university and college as well as high schools across the state. During the 2019 term of service, Youth Council members worked to identify and address barriers related to youth volunteerism. This was accomplished in 2 parts: service projects and a research report. The research examined the benefits youth receive for volunteering, as well as the barriers to youth volunteerism. This research will aid UServeUtah in increasing youth engagement throughout the state, as well as provide current and future Youth Council members increased knowledge about data pertaining to youth volunteerism. Youth Council members leveraged this data to encourage more young people to volunteer, educate their communities on the importance of youth volunteerism, and continue to engage for change. The 2019 Youth Council and their recruited volunteers served 11,500 hours on their projects. Projects addressed a wide range of community needs from recycling, to assisting foreign exchange students, to addressing intergenerational poverty in rural Utah.
---
---
---
---
UServeUtah tracks performance measures related to development of Americorps programs and implementation of volunteers.
---
---
---
Percentage of organizations trained implementing effective volunteer management practices. GOAL: 85 percent
---
---
Percentage of AmeriCorps programs showing improved program management and compliance through training and technical assistance. GOAL: 90 percent
---
---
Number of Utahns served through Americorps programs; including youth tutoring and mentorship after-school programs, healthcare resources and insurance, bolstering mental healthcare resources, environmental and conservation projects, assisting the homeless, disaster preparation and more. GOAL: 70,000
---
---
The mission of UServeUtah, the Utah Commission on Service and Volunteerism, is to strengthen and grow bonds across Utah communities through the uniting power of service and volunteerism. The commission was created by legislative act in 1994. To achieve its mission, UServeUtah concentrates its efforts in three focus areas: National Service; Community Engagement; Disaster Service. All commission strategies, activities, and performance measures are consolidated under the following three objectives: (1) Build and cultivate capacity in the volunteer and service community; (2) Promote and inspire statewide National Service and volunteerism; (3) Recognize the efforts of outstanding volunteers. UServeUtah manages the AmeriCorps program portfolio for Utah. AmeriCorps, the Domestic Peace Corps, annually engages more than 80,000 Americans nationwide in intensive, results-driven service in the areas of education, public safety, health and the environment.
---