---
---
---
---
---
---
Heritage & Arts Divisions
---
---
---
---
The Utah Commission on Service and Volunteerism was created by state statute in 1994. As the state's central coordinating body for service and volunteerism, the Commission is responsible for developing, implementing, and sustaining a culture of civic engagement within the state.

UServeUtah has a long history of advocating the value of volunteerism, training organizations on effective volunteer engagement, coordinating a statewide system to facilitate service, developing innovative AmeriCorps programs, and promoting Utah's national leadership in volunteerism.
---
---
As the state's central coordinating body for service and volunteerism, the Commission is responsible for developing, implementing, and sustaining a vision and culture of civic engagement and national and community service within the state.
---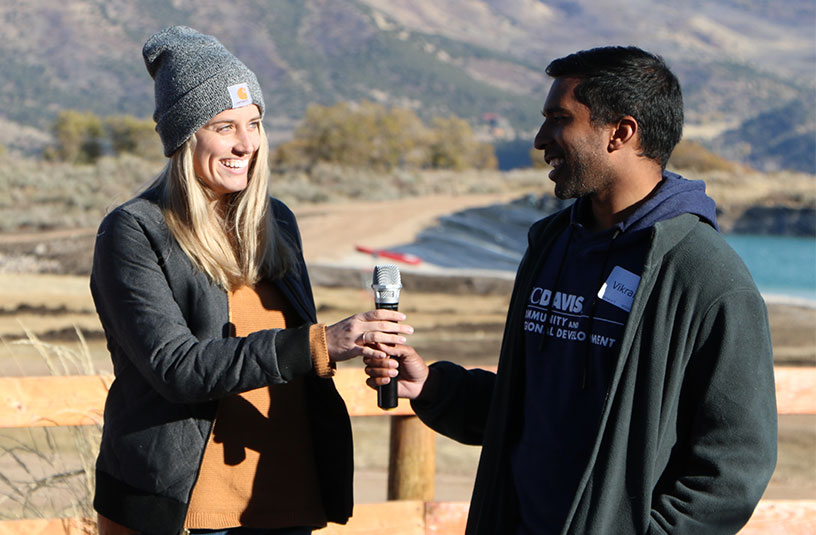 ---
Active Engagement Retreat
In September of 2018, UServeUtah hosted the Active Engagement Retreat which brought together 80 AmeriCorps members and students from across the state to explore the Pathways of Public Service and Civic Engagement. During the retreat, participants define their purpose and passion, learn to recognize assets in their communities, and explore and consider their potential impact through community engagement.
---
Power of Service Award
Presented three times per year to a volunteer committed to the well-being of those they serve. Recipients are honored by UServeUtah commissioners and presented with a framed certificate and a signed letter and commemorative coin from Lt. Gov. Spencer Cox. In FY19 the Power of Service Award was presented to George Atwood (pictured above, bottom right), Jack Hobbs, and Sandra Christensen.
---
UServeUtah Youth Council
A youth-driven advisory board made up of young people ages 16-22 from across the state.This group works to promote service engagement and leadership skills, develop new strategies to engage youth, and to build awareness of UServeUtah and volunteerism among youth in Utah. With support from the commission, each Youth Council member organizes a service project to address an identified need in their community.
---
Peer Visits
Utah leads the nation in volunteerism, and as such the Utah Commission on Service & Volunteerism has the opportunity to welcome sister commissions from other states to share best practices and core strengths. During FY19 UServeUtah was visited by Serve Colorado and the Arkansas Service Commission - EngageAR. These sister commissions were eager to learn grant management procedures and how to improve their community engagement initiatives.
---
AmeriCorps Gathering
Nearly 500 AmeriCorps members from across Utah
spent a day
learning and networking. Keynote speaker Barbara Stewart, CEO of the Corporation for National and Community Service, praised AmeriCorps members for not waiting to make a positive impact on their communities and the world. Breakout sessions covered topics that included self-care, mindfulness, navigating a changing workforce, utilizing volunteers, civic engagement, and more!
Give 25
To mark the 25th anniversary of the creation of UServeUtah, people were encouraged to "Give 25" hours of volunteer service. Hours could be tracked through an online.
---
---
---
UServeUtah tracks performance measures related to development of Americorps programs and implementation of volunteers.
---
---
---
Percentage of organizations trained implementing effective volunteer management practices. GOAL: 85 percent
---
---
Percentage of AmeriCorps programs showing improved program management and compliance through training and technical assistance. GOAL: 90 percent
---
---
Number of Utahns served through Americorps programs; including youth tutoring and mentorship after-school programs, healthcare resources and insurance, bolstering mental healthcare resources, environmental and conservation projects, assisting the homeless, disaster preparation and more. GOAL: 70,000
---
---
The mission of UServeUtah, the Utah Commission on Service and Volunteerism, is to strengthen and grow bonds across Utah communities through the uniting power of service and volunteerism. The commission was created by legislative act in 1994. To achieve its mission, UServeUtah concentrates its efforts in three focus areas: National Service; Community Engagement; Disaster Service. All commission strategies, activities, and performance measures are consolidated under the following three objectives: (1) Build and cultivate capacity in the volunteer and service community; (2) Promote and inspire statewide National Service and volunteerism; (3) Recognize the efforts of outstanding volunteers. UServeUtah manages the AmeriCorps program portfolio for Utah. AmeriCorps, the Domestic Peace Corps, annually engages more than 80,000 Americans nationwide in intensive, results-driven service in the areas of education, public safety, health and the environment.
---