Date: November 25, 2019 (Season 1, Episode 3; 45:00 minutes). Click for the Part One and Part Two Buzzsprout versions of this Speak Your Piece Episode. The above image is a photograph of Samuel and Amanda Chambers, a 19th Century Mormon Couple. Image Courtesy of CenturyofBlackMormons.Org. Are you interested in other episodes of Speak Your Piece? Click here for more episodes.
Podcast Content:
"Black Saints were among the first to arrive in the Salt Lake Valley in 1847 and have been a part of the Mormon experience since the beginning." This is an excerpt from Century of Black Mormons.Org, a research database that seeks to document and recover the identities and voices of Black Mormons. University of Utah Professor of Mormon History, W Paul Reeve, spoke to "Speak Your Piece" host Brad Westwood about the public history project, "Century of Black Mormons". Reeve serves as this database's general editor and speaks of Elijah Able and Jane Manning James, Green Flake, Oscar Crosby, and many other enslaved and free African Americans, who were also Latter-day Saints.
Reeve outlines 19th and early 20th century events, the hierarchical racial construct in U.S culture, both the national and regional political context and the key players in the changing story of African Americans within Mormon history. The story begins in the 1830 and 1840s, where church leaders offer an all-inclusive, universalistic message to all races and nationalities but then alters and restricts African American membership by prohibiting priesthood membership and involvement in the church's highest rituals. Dr. Reeve also describes the church's 20th century return to its universalistic roots and its media campaigns in an effort to claim this diverse identity.   
Podcast Episode:
Reeve and Westwood discuss Religion of a Different Color: Race and the Mormon Struggle for Whiteness, which describes the highly charged 19th century American views on race; and how "polygamy practicing Mormons" were thought to be building a new and emerging "race". At the same time, Latter-day Saints were also increasing their numbers through immigration which led them to be viewed as foreigners. This discussion offers insights into ideas regarding marginalized groups of people, those who hold political power, and why ethnicity and ideas of "whiteness," played such an important role in 19th and early 20th century Utah and the nation; ideas that clearly and offensively still affect us today.
Topics Discussed in Time:
Part One
Minute: 00:00 – 03:41  Host Brad Westwood introduces U of U Professor of History: W. Paul Reeve. Dr. Reeve is the author of numerous publications focused on Mormon History and the Mormon experience. This specific episode focuses on the intersection between the history of Utah, Black LDS members and race. 
Minute: 03:41 – 13:45   Reeve talks about the project "Century of Black Mormons" which is a public digital database in which he serves as the General Editor. He talks about the importance of this project and how the public can have access to these primary sources. He also speaks on the value and interpretation of primary sources. Professor Reeve lists all the people and institutions included in this project.
Minute: 13:45 – 17:50   The year 1847 is an important marker for African Americans in the history of Utah since they were included in the group of pioneers who arrived in the valley. During this time period, Brigham Young articulates race-based priesthood restrictions within Mormonism despite the conversion of African Americans.
Minute: 17:50 – 23:00  Another marker in black Latter-Day Saint history was in 1879 when the passing of temple restrictions came into place. In 1908, Joseph Fielding Smith announced that the church would no longer actively seek out people of color for conversion, missionaries were instructed to follow this new directive. The LDS church became known as a white church in the 20th century. Later in June of 1978, prophet and president of the LDS church, Spencer Kimball, returned Mormonism to its universal roots. Professor Reeve explains that Century of Black Mormons wants to address issues within Latter-Day history and allow the lives of those who are in the database to speak for themselves.     
---
Part Two
Minute: 00:00 – 04:50  Reeve explains some of the information collected in the Century of Black Mormons database. Location of baptism for various generations of black Latter-day Saints were recorded and analyzed. For the Utah story, faith transitions and immigration trajectories were also recorded.
Minute: 04:50 – 07:00  The collection of these stories and creation of these biographies follow a meticulous process and system. The stories exhibited in this database were collected through census records, marriage records, LDS baptismal records and death records. Any written records left behind were also examined.
Minute: 07:00 – 15:30  During the 19th century, members of the Church of Jesus Christ of Latter-Day Saints were seen as "not white enough" by Americans through the permeating racial context of that day, in response the church tried to claim whiteness for themselves. In, Religion of a Different Color: Race and the Mormon Struggle for Whiteness, Reeve captures how race was viewed nationally, how the U.S attempted to stop Mormon migration and how the church felt it necessary to pass a series of restrictions towards their black LDS members.
Minute: 15:30 – 21:23  In their quest for "whiteness", the LDS church treated both Native Americans and black LDS members differently. Reeve reveals that Brigham Young woud borrow language from the Book of Mormon and instructed members that Native Americans were fallen descendants from Israel, therefore they needed to be racially uplifted through intermarriage. Meanwhile, intermarriage with someone of African heritage would bring upon a curse. Although history can be difficult, Reeve explains that learning about this history informs us about created racial constructs that put certain groups of people at a disadvantage. History helps us understand the present, informs us of the past and teaches us valuable lessons.   
---

Bio: W. Paul Reeve Raised in Hurricane (Washington County) Utah, W. Paul Reeve has been teaching since 2008 American, Western, Mormon and Utah history at the University of Utah. Paul is the first-ever Simmons Professor of Mormon Studies at the U, and has written a number of books, including Making Space on the Western Frontier: Mormons, Miners, and Southern Paiutes (2007), Between Pulpit and Pew: The Supernatural World in Mormon History and Folklore (with Michael Scott Van Wagenen, 2011), and in 2015 Religion of a Different Color: Race and the Mormon Struggle for Whiteness (2015).
---
Additional Resources & Readings: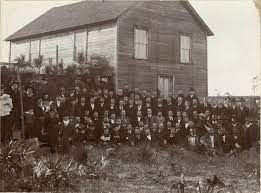 Century of Black Mormons Database
Century of Black Mormons is a digital history database designed to document and recover what was lost, the identities and voices of black Mormons during the faith's first one hundred years (1830 – 1930).
---
---
---
Do you have a question or comment, or a proposed guest for "Speak Your Piece?" Write us at "ask a historian" – askahistorian@utah.gov