The art of making fused-glass tiles connects science lessons to real life
By Ellen Fagg Weist
Like any good art project, the fused-glass workshop at Montezuma Creek Elementary School was anchored in careful planning.

Under the direction of glass artist Carrie Trenholm, students first worked out their design ideas on a small square of construction paper. Each class's art assignments drew upon their grade's science lessons, ranging from insects and plants, to the solar system and the visual effects of the aurora borealis.

"They really integrated stuff kids can touch and feel here," says Montezuma Creek Principal Connie Todachinnie of the workshop connecting art and science to real life. The rural San Juan County school has a student body that's made up of 98 percent Navajo students, most of whom live at least a 45-minute bus ride away from campus.

After working and reworking their aesthetic choices in construction paper, students created layered designs from a variety of colored glass pieces, known as frits, stringers and confetti. Then each tile was fired for 24 hours in the Whitehorse High School kiln.

The finished fused-glass tiles shone like suncatchers when they were exhibited in the school's front windows, Todachinnie says.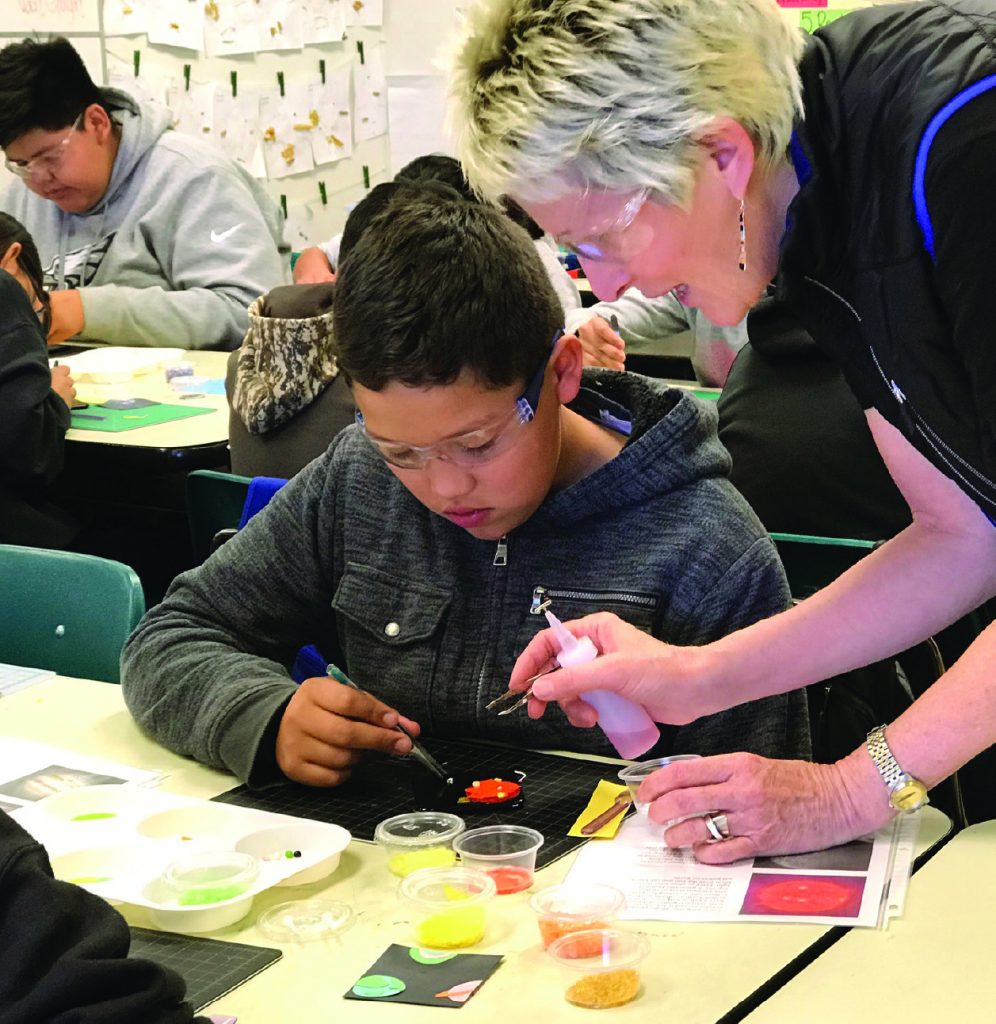 What sets apart Montezuma Creek's young artists is their well-developed fine motor skills and their creativity, says Trenholm, a retired arts educator and Southern Utah University professor based in Cedar City. Many students have learned about traditional Navajo arts from watching their parents or their grandparents.

"All of them were very confident in their artistic abilities. Not once did I hear: 'Oh, I can't do this.'
"Not once did I see someone copy somebody else's design because it was better," Trenholm says. " They loved the design they made. They got into it, and they were so careful with the materials."

The glass workshop was supported with funding from the Utah Division of Arts & Museums and the Beverley Taylor Sorenson foundation's Art Works for Kids. "None of us can afford to invent any new wheels," says Jean Tokuda Irwin, UDAM arts education manager and accessibility coordinator. "But we can certainly augment and enhance each other's efforts."

The arts partnership focused on three elementary schools — Foothill in Box Elder County, Flaming Gorge in Daggett County, and Montezuma Creek in San Juan County — and worked with school leaders to create individual arts education plans for each campus.

The Montezuma Creek glass workshop followed a year of arts educational opportunities, beginning with professional development workshops for teachers.

Students had the chance to see a live theater performance, thanks to Plan-B Theatre Company's elementary tour show, "Zombie Thoughts." It's a play about anxiety, written by then 11-year-old Oliver Kokai-Means with his playwright mother, Jennifer A. Kokai. And students learned about bookmaking in a week-long workshop led by naturalist Claire Taylor in January.

The arts enrichment programs at the elementary and neighboring Whitehorse High School are part of a long-term focus on supporting and enriching Native American arts education around the state, according to Irwin, who successfully began applying for National Endowment for the Arts grants in 1991.

At the high school, art teacher Georgiana Simpson encouraged freshman Leyonah Endischee to enter the Utah State Senate Visual Arts Scholarship Competition. Her artwork, "Patterns of Warriors," drew upon her cultural heritage to depict a Navajo Codetalker, using the contemporary artform of anime, a style of Japanese animation.

At the Montezuma Creek workshop, teachers were especially charmed by one young artist who observed the black hole her friend had depicted in her glass tile. "And if you don't watch out, you're going to get sucked in and find yourself in another dimension," the girl said, a nerdy science joke that underscored the learning embedded in the glass.

MORE: Learn more about UDAM arts education grants and programs.