Date: June 15, 2022 (Season 4, Episode 13: 1 hour, 11 min. & 50 sec. long). Click here for the BuzzSprout version of this Speak Your Piece episode. The above photograph is of Brent F. Ashworth holding up the house sign ("Haus Hofmann 2219") that once hung outside of Mark and Dorie Hofmann's SLC home. Are you interested in other episodes of Speak Your Piece? Click Here. This episode was co-produced by Brad Westwood and Chelsey Zamir, with help (sound engineering and postproduction editing) from Jason Powers from the Utah State Library Recording Studio.
This episode is with Brent F. Ashworth, someone who knew Mark W. Hofmann, well, or at least among those collectors and dealers that frequently bought and sold with him. Ashworth met, traded and wrangled with Hofmann, every week or every other week in person, meeting either at Hofmann's home or at a bench outside Walden Books in the Crossroads Plaza Mall in Salt Lake City (replaced in 2012 by the City Creek Center) for over four years.
Podcast Content:
On June 9, 2021, just three months after the release of Netflix documentary series Murder Among the Mormons (released March 2, 2021), New York antiquarian book dealer Justin Schiller, sold through Heritage Auctions (Dallas, TX) The Oath of a Freeman [created by Mark Hofmann, forger] for $52,500. It was clearly sold as a forgery, a remarkable forgery at that.
When it was thought to be authentic, presumably printed in 1638 or 1639 by Stephen Daye, it was offered by Mark Hofmann, and the entirely innocent selling partner Justin Schiller, "as the only surviving copy of the first item printed in America, it had been offered for sale priced at $1,500.000." Heritage Auctions, Lot 45390 June 9, 2021. Later it was revealed that it was forged using a printing plate made to order from a SLC engraving company.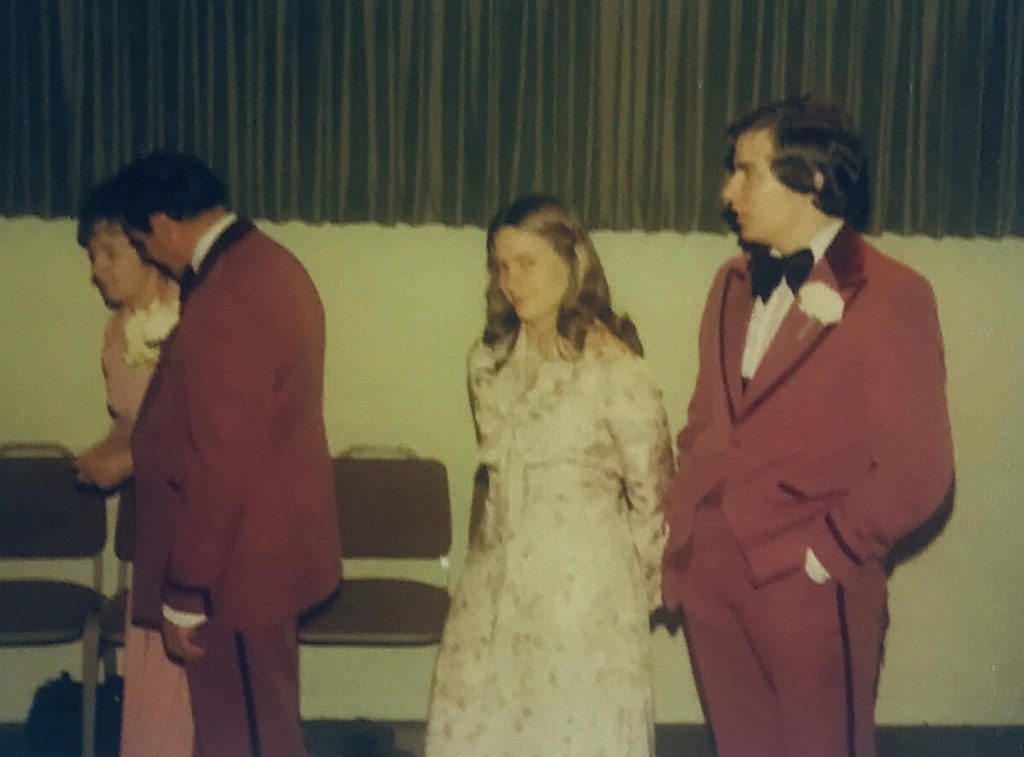 "Swinging for the fences," as the old sports analogy goes, Hofmann was not content to forge and fool collectors of just Mormon, Western Americana and literary materials, he sought to deceive the nation's most distinguished and respected historical institutions, subject specialists, and rare book and antiquity dealers. He may very well have completed his diabolical transactions except for what unfolded in Salt Lake City in fall 1985, including the murders of Steven Christensen and Kathy Sheets. For a basic historical context and timeline see: David J. Whittaker, "The Hofmann Maze, the Book Review Essay With Chronology of the Hofmann Case," BYU Studies, Vol. 29, Issue 1 (Jan 1, 1989).
It is with the Netflix documentary and the Heritage Auction in the recent past, and amid much historical reexamination of Mark Hofmann's impact on Utah, some thirty-five years later, that Brent Ashworth joined Speak Your Piece host Brad Westwood, on June 15, 2022, to describe his personal interactions, Hofmann's "confidence man" techniques, and his possible motives. Hofmann's social, religious and historical havoc remains evident, especially in Utah, to the present.
Ashworth opens the discussion by explaining his first interaction with Hofmann in May 1981. Ashworth had been in the SLC bookstore and head shop, the Cosmic Aeroplane, the day before he met Hofmann. A friend who worked at the store mentioned that Mark Hofmann had come in the day before and sold what he described as samples of Joseph and Hyrum Smith's hair, which piqued Ashworth's interest. At the time, Ashworth had been a well-known collector for nearly 20 years, and so he called Hofmann the next day and introduced himself as a collector and had been hoping to track down a letter signed by Joseph Smith. As it turned out Hofmann said he just so happened to have a holographic letter, signed by Joseph Smith to his wife, Emma Smith. Ashworth made a deal to obtain the letter, and the following day he received it in the mail. Ashworth now unintentionally sees that he had "ordered up" this, and many other forgeries he acquired from Hofmann.
As Hofmann and Ashworth's professional relationship grew, Ashworth details the many items that he purchased from Hofmann. One such item was a letter supposedly written by Lucy Mack Smith (mother of Joseph Smith). In the letter, she alludes to the original manuscript of the Book of Mormon and mentions a couple of facts about it which were unknown. For nearly three and a half years, the LDS church considered this to be the oldest dated document, and they held a press conference on it in 1982, after accepting and integrating it into the history of the church. This too was proven to be a forgery.
Following this trade, Hofmann and Ashworth made numerous other trades of LDS church documents (usually combinations of cash and traded items). With much regret Ashworth recalled the scores of authentic historical materials, such as signed manuscripts of George Washington, Andrew Jackson, Abraham Lincoln and the like, that he traded for what he thought were exceptional historical LDS Church related documents. Hofmann often tantalized numerous buyers at the same time, describing heretofore unknown historical content, or sent written outlines to numerous would-be buyers. Hofmann also delayed accepting final sales for months, created fictitious competing buyers, and "salted the mine" by dropping rumors into a pre-internet "Mormon history underground," spreading like wildfire "back stories" and unknown history; stories that had a component of truth which underground insiders could knowingly nod to, and in nearly every case, substantiate.
---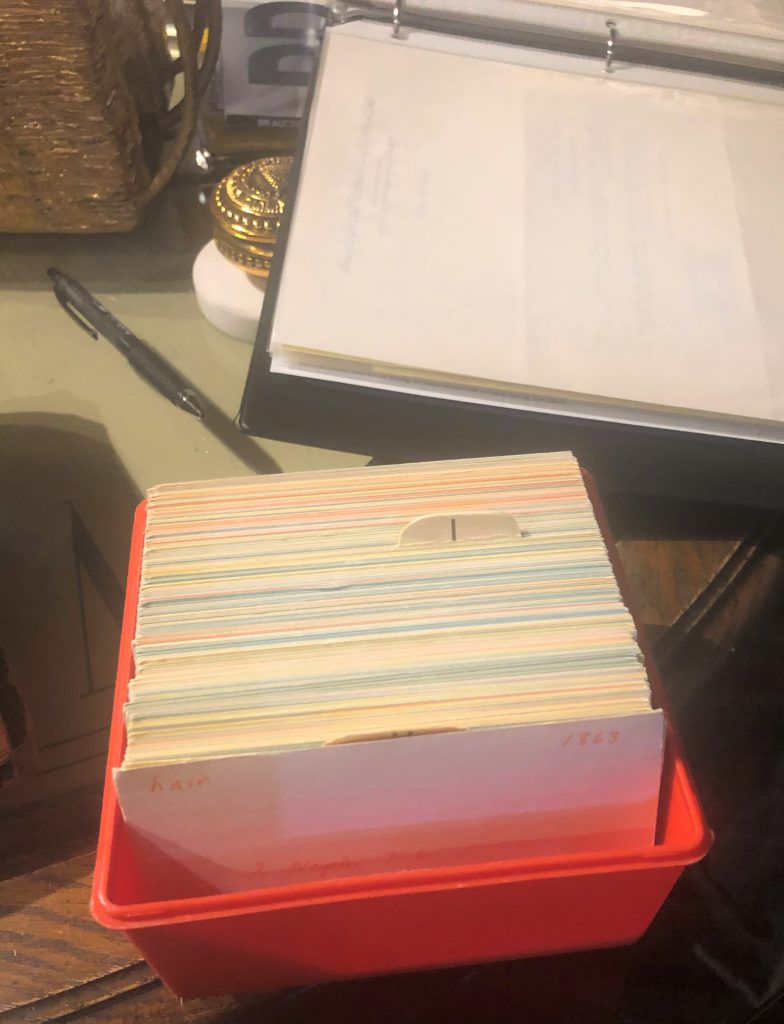 Photo Captions: Research materials produced to create a forgery of the original 116 missing pages of the Book of Mormon. Hofmann, prior to the computer and digital age, hired an assistant to number every word used and the frequency of those words, within a first edition (right, a page from the Book of Alma, Book of Mormon, 1st edition, photostatic copy, p. 331), then record this data on 3 x 5 index cards (left, photo of index card box and a three-ring binder of the photocopy of the 1st ed. pages). Photographs used by permission of Brent Ashworth. Click here to read an explanation regarding the missing 116 pages.
---
Ashworth offers, somewhat in chronological order, a personal story between him and Hofmann. He also describes his views on Hofmann's associate and erstwhile rare book collector and restorer Lyn R. Jacobs. Jacobs has been described as a "cosmetologist," one who could reconstruct or "perfect" any document or rare book and was thus very useful to Hofmann. Ashworth's interactions regarding the infamous "Salamander letter" are described, including his belief that it was likely a forgery. Although for Ashworth, Hofmann during the mid-1980s, would not have been considered its forger-creator. Lyn Jacobs would later admit to Ashworth that Hofmann had paid him ten thousand dollars to say he was the finder of the letter. Jacobs, and his participation with Hofmann, was not reported in the documentary series Murder Among the Mormons.
Deeply in debt, by the mid-1980s Hofmann attempted to sell a series of forgeries from the so-called "McLellin Collection." The documents were said to have been written or collected by William E. McLellin, an early Mormon apostle, who broke away from the church. Hofmann had little time to "forge" these documents to meet the demands of his pending sales, which had been brokered to a handful of individuals. In an attempt to buy time [to many historians not an entirely satisfying reason], he constructed bombs, one Ashworth believes had "his name on it." Hofmann failed to meet with Ashworth and, returning to his car, presumably accidentally detonated the bomb on October 16th, 1985. Two other bombs heartlessly planted, exploded on October 15th, one murdering fellow collector Steven Christensen (son of Mac Christensen, founder of the famous men's clothing store Mr. Mac) the other, Kathy Sheets, the wife of Gary Sheets, a former associate of Christensen. To hear the basic Hofmann story, listen to the SYP episode: "Salamander: The Story of the Mormon Forgery Murders" – a Conversation with Co-author Allen D. Roberts.
What was Hofmann's motive for his forgeries? According to a statement given by Dorie Hofmann, Mark Hofmann's wife, "he wanted publicity and money." According to Ashworth, he believes Hofmann was trying to negatively affect Mormon history, and by extension the church he had been born and raised in.
---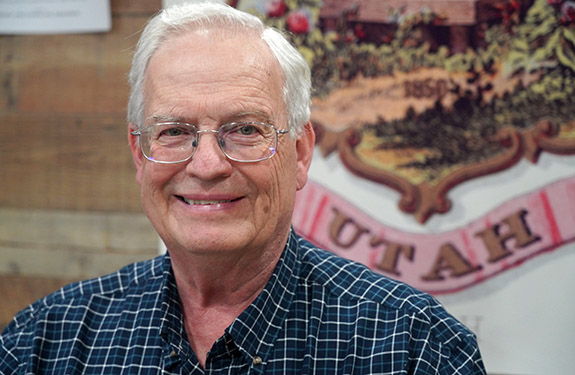 Bio: Brent Ashworth is the owner of B. Ashworth's Inc., a Provo, Utah rare book, document, and artifact company, which opened in 2006. Ashworth has been a collector of rare historical materials since childhood. Concurrent to a lifetime of collecting, Ashworth has served as general counsel for a series of personal health and supplement corporations. Photograph courtesy of Meridian Magazine.
---
Additional Resources & Readings:
---
Do you have a question or comment, or a proposed guest for "Speak Your Piece?" Write us at "ask a historian" – askahistorian@utah.gov