Salt Lake West Side Stories: Post Twelve
by Brad Westwood
Salt Lake's west side was the location of businesses, homes, tenement houses, hotels, transportation hubs, government buildings, schools, and early non-Mormon (members of The Church of Jesus Christ of Latter-day Saints, hereafter LDS Church) religious communities.
The Salt Lake County Courthouse was built a block north of the park on 156 West and 200 South. The county constructed the jail right next to the courthouse. St. Mary's Academy, a Catholic girls' school, sat just east of the courthouse on 146 South and 200 West. St. Mary's drew in new students by publishing newspaper advertisements, some that ran as far north as Butte, Montana, inviting Roman Catholic parents to send their daughters to St. Mary's. Additionally, Salt Lake City's First Baptist Church sat diagonally from St. Mary's and faced southwest from the courthouse. Many non-Mormon congregations first gained strength in the west side.
"St. Mary's Academy drew in new students by publishing newspaper advertisements, some that ran as far north as Butte, Montana, inviting Roman Catholic parents to send their daughters to St. Mary's."
In 1884, Salt Lake City's first Presbyterian Church began as a proselytizing mission funded by mainly eastern organizations and benefactors. After they constructed a chapel in front of their mission on 400 West, between 100 and 200 South, in 1886 they adopted "Westminster Church" as their name. Salt Lake City was also the home to scores of Jewish citizens. Twenty-three families organized a synagogue in 1881 named B'nai Israel, and built and opened its first temple on September 30, 1883, at 300 South and 200 West. In 1889, the synagogue leadership sold the property and subsequently built a temple on the east side at 249 South 400 East.
Many other religious denominations and some schools added to the rich cultural make-up of the Pioneer Park neighborhood. The Congregation B'nai Temple was located just South of the LDS Church's Sixth Ward meetinghouse. In the 1880s, two early unified public-school buildings were built in the area. The Fremont School was located at 161 South and 300 West, and the Lincoln Elementary School was built at 440 West and 50 South. Utah's first unified high school, which was occupied from 1896 to 1905, was built on what is today "Market Street," between 200 West and West Temple. Together, these different religious and educational outlets offered support to both Salt Lake City and west side populations.
The railroad spurred the opening of dozens of economic enterprises on Salt Lake's west side. For instance, ice houses provided ice for packing and shipping fresh foods and goods by rail (the ice was harvested from Evanston, Wyoming ponds). Other related businesses included blacksmiths, machine shops, foundries and assayers, the latter determined the quality and components in ore. Oil storage depots and coal and coke yards also proliferated on the west side. Meatpacking plants, lumber companies, and furniture factories also took up residence for access to the shipping on the railroads.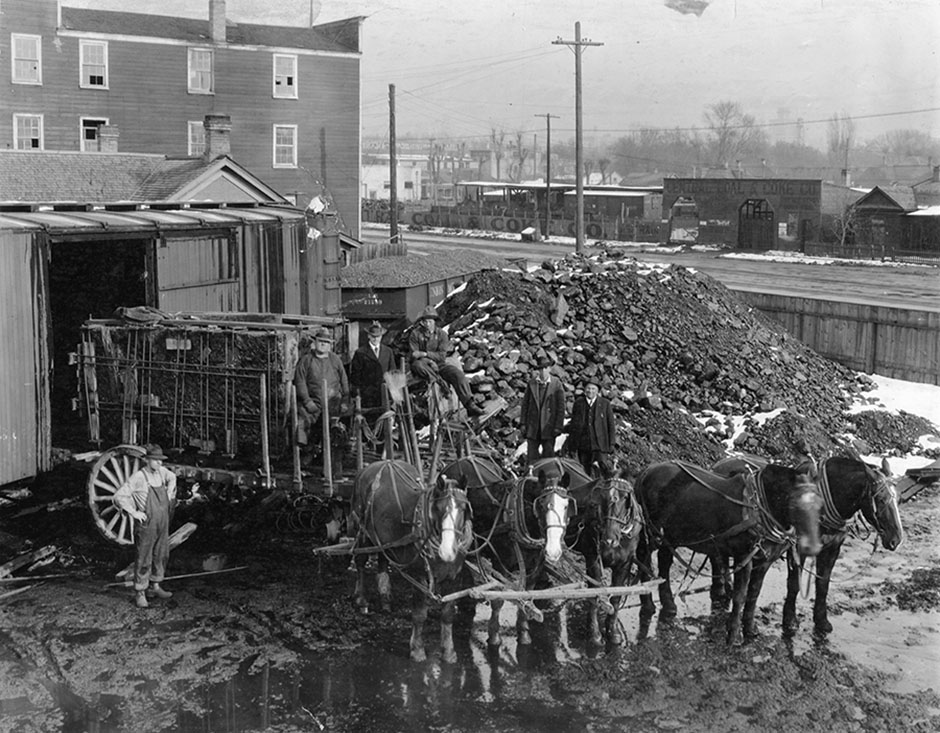 By 1895, the Cudahy Meat Packing Company had a small feedlot, slaughterhouse, and plant across the street from Pioneer Park on 300 South. Cudahy later expanded its feedlots and moved directly west of the rail corridor on 300 South to 700 West. Dinwoody Furniture's factory opened its doors on 600 South in the early 1870s. The Sierra Lumber and Planning Company operated from South Temple and 400 West. The west side had a half dozen foundries, not including the railroad-owned foundries, and three ore sampling plants. All of these industries listed above were located around hundreds of residences, hotels, apartment buildings, tenements and shanties, all mixed together.
Businesses on the west side were indeed diverse. Some manufactured or processed materials that polluted the environment. For example, in the late 1880s, a gasworks plant opened which burned coal to extract gas (for industrial and residential use), coke, coal tar, ammonia, and sulfur which brought foul-smelling air to the area. The neighborhood also contributed to America's sweet tooth, when J. G. McDonald Candy Company and the Salt Lake Company Plant, which later became the Sweet Candy Company, opened their doors adjacent to Salt Lake City's 200 West shipping corridor.
West side property owners divided their lots into smaller parcels or built numerous interior alleys and streets with densely packed apartments or boarding houses. Well-known Salt Lake Tribune columnist Jack Goodman described the mid-twentieth century's west side alleyways and back lots, some with gardens and small orchards. Even in these dense urban landscapes, residents managed to eke out small courtyards and gardens. The vast diversity of Salt Lake's west side made the area a hodgepodge of religious, commercial, and residential buildings that made the neighborhood an interesting and complex part of Utah's industrial and post-industrial history.
Join us for our next installment of Salt Lake West Side Stories where we will grapple with a claim that Salt Lake City was, in the 1890s, one of America's ugliest and dirtiest cities.
Do you want to read the next post (Post 13)? CONTINUED TRANSFORMATIONS: INDUSTRIALIZATION AND SALT LAKE CITY'S WEST SIDE
Click here to return to the complete list of posts.
---
Contributors: This post was researched and written by Brad Westwood with a whole lot of help from friends. Thanks to our sound engineer and recording engineer Jason T. Powers, and to his supervisor Lisa Nelson, both at the Utah State Library's Reading for the Blind program. Thanks also to yours truly, David Toranto, for narrating this post.
Selected Works:

David B. Green, "This Day in Jewish History: 1883: Salt Lake City Jews Dedicate a Shul of Their Own," Haaretz, September 30, 2014, 1883: Salt Lake City Jews Dedicate a Shul of Their Own – Jewish World – Haaretz.com.

Eileen Hallet Stone, A Homeland in the West, Utah Jews Remember (Salt Lake City: University of Utah Press, 2001), 3-20.

Don Strack, "Meat Packing Industry in Salt Lake City," UtahRails.net, last updated November 22, 2019, Salt Lake Meat Packing (utahrails.net).
Do you have a question or comment? Write us at "ask a historian" – askahistorian@utah.gov