Date: October 24, 2022 (Season 5, Episode 6: 80 minutes long). Click here for the BuzzSprout version of this Speak Your Piece episode. Are you interested in other episodes of Speak Your Piece? Click here. The above photo is of a Diné mother and daughters, circa mid-1950s, beside a hogan at Oljato-Monument Valley (Navajo: Ooljéé'tó). Photo courtesy of the Utah State Historical Society. The episode was co-produced by James Toledo, Chelsey Zamir, and Brad Westwood, with sound engineering and post-production editing by Jason T. Powers, from the Utah State Library Recording Studio.
The opinions shared in this podcast episode represents the historic research of our guests and does not reflect the official views of the state of Utah.
---
---
Content Advisory: This SYP series is about Utah's Native American boarding school era, which spanned from the mid-1800s to approximately 2000, when Native American children (ages 5 to 18+) were removed, then later encouraged, to leave their families and communities, in order to receive a 1-7 and later K-12 educations. This history can be emotionally challenging for any listeners but even more so for those who experienced it, either first-hand or through multi-generational effects. If you or someone you know needs to talk to someone regarding the traumatic effects related to this history, contact the 988 Suicide & Crisis Lifeline for Native Americans and Alaska Natives at 1-800-985-5990.
This episode is part four of a five-part series about Native American boarding schools in the Intermountain West and in Utah. In this episode, Gayle Dawes and Rose Jakub, two Navajo elders, tell their own and their families' experiences, attending reservation day schools, away-from-home federal boarding schools, and participating in The Church of Jesus Christ of Latter-day Saints' (hereafter LDS Church) Indian Placement Program with SYP co-hosts James Toledo and Brad Westwood. In the recounting of these memories (circa 1950s-1980s) and in the retelling of stories from parents and extended family members (circa 1900 to 1960s), Dawes and Jakub, forcefully speak as "primary sources." Their memories reveal aspects of Native thinking and knowing, culture and language, family life and community, trauma and resilience, all woven in conversation offered as only longtime friends can speak to one another.
Both Dawes and Jakub are exemplary elders and leaders inside and outside their communities. They work with children in educational settings to teach perseverance, the ability to overcome hardships and move forward, and about their cultures and language in hopes of instilling confidence and inspiring healing from cross-cultural trauma that many Native Americans have carried down to the younger generations from their days attending boarding schools. This episode aims to give a voice to those experiences and help listeners better understand the history, major themes, and underlying ideas behind the Native American boarding schools and LDS Church's Indian Student Placement Program that thousands of Native American children attended.
---
Part 1: Native American Boarding Schools in the Am. West & in Utah (ca. 1870s-1980s) with Dr. Farina King (Diné) – an Introduction
Part 2: American Boarding School Policies with Native American College Adviser Franci Lynne Taylor (Choctaw) (Season 5: Episode 4)
Part 3: Matthew Garrett on "Making Lamanites: Mormons, Native Americans, and the Indian Student Placement Program, 1947-2000" (Season 5: Episode 5)
Part 4: Diné Elders Rose Jakub (Diné) and Gayle Dawes (Diné) on Their Boarding School Experiences (Season 5, Episode 6)
Part 5: James Toledo on Multi-Generational Impacts from Boarding Schools and on the Need for Healing (Season 5, Episode 11) – Series Conclusion
---
Bio: Rose Jakub has worked at Granite School District since 2003, first as a paraeducator, and, since 2006 as a Title VI Mentor (a program designed to address the unique cultural, language, and educational needs of American Indian students). Jakub has taught the Navajo language at the Crossroads Urban Center of Salt Lake City, and she is also a member of the Wisdom Keepers program. She is also an instructor in Native American arts and crafts, and she serves as a Navajo language translator at the LDS Church's general conferences and various other settings where Navajo-to-English translation is needed. Photo courtesy of The Salt Lake Tribune.
Bio: Gayle Dawes has worked with the Title VI Indian Education program in various capacities for the Salt Lake City School District since the 1980s. She has served on the Board of the Crossroads Urban Center of Salt Lake City for ten years. She is also a member of the Wisdom Keepers, a social support program for Native American elders along the Wasatch Front. Dawes has worked with the Utah Prisoner Advocate Network (UPAN) for 13 years, and for the last two years, she's served as UPAN's Director over women's issues. Photo courtesy of The Salt Lake Tribune.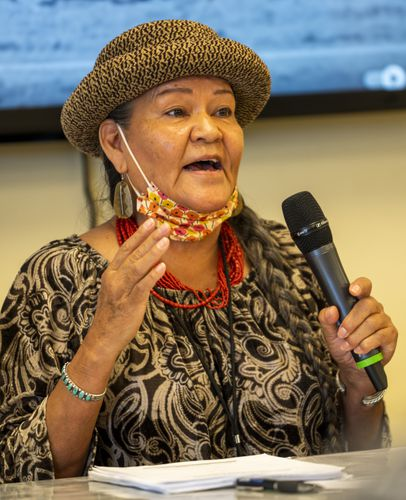 Bio: James Toledo, is a citizen of the Navajo Nation, and is the program manager for the Utah Division of Indian Affairs. Toledo is co-host of the five-part Speak Your Piece podcast series on Native American boarding schools in Utah.
---
Additional Resources & Readings:
Do you have a question or comment, or a proposed guest for "Speak Your Piece?" Write us at "ask a historian" – askahistorian@utah.gov