Date: 02.10.2020 (Season 1, Ep. 12; 36:41 minutes and 27:12 minutes (two audio segments) Click here for part one and Click here for part two for BuzzSprout versions. The image above is the "inmate record [with execution date: November 19, 1915]" for Joe Hill, born Joel Emmanuel Hägglund, known also as Joseph Hillström, Utah State Penitentiary. Courtesy of the Salt Lake Tribune.
Podcast Content:
Former Salt Lake Tribune Photo Editor Jeromy Harmon, breaks down Joe Hills' crime (the murder of a grocer story owner and his son at 773 South West Temple), his likely unwarranted arrest, the threat he and labor unions represented to Utah's early 20th century power structure, Hill's trial, the many letters of appeal from around the world, and his unstoppable execution at the Utah State Penitentiary.
Harmon also describes a bevy of recently discovered primary sources, his and others hypotheses regarding why Hill did not defend himself during the trial, and whom he was likely protecting. Spoiler alert: it appears to have been a married woman, along with fellow Swedish and labor union friends.
Podcast Episode (part 1):
Podcast Episode (part 2):
Bio: Jeremy Harmon is the former Salt Lake Tribune Director of Photography (2007-2021). He is now the Director of Photography for The Tennessian and for the southeastern USA Today Nework. Harmon developed during the last eight years a keen interest—following the well-established (but not so often followed in the digital world) journalistic tradition—of investigating and securing hard evidence. Harmon, and other Salt Lake Tribune reporters, have tracked down newspaper accounts, personal correspondence, police records, prison records, federal records and union records, all concerning Joe Hill and his execution in Utah.
Harmon and Westwood speak of the backdrop of early 20th century industries, the world of cheap immigrant labor (Hill was a Swedish immigrant) and how thousands of such immigrants worked in Utah's railroad, factories, mines and smelters. Harmon describes the growth of the Wobblies (Industrial Workers of the World, who maintained an office in Salt Lake City), the murder of another immigrant laborer some two weeks prior that now adds new insights as to why Hill was arrested.
The best history sources and books on Hill are also described including the Salt Lake Tribune's website "The Legacy of Joe Hill." Finally, Harmon urges listeners not to read Pulitzer Prize winner Wallace Stegner's book Joe Hill (1969, described as a "biographical novel") which he believes has done more harm than any other written source; notwithstanding the book's popular literary value.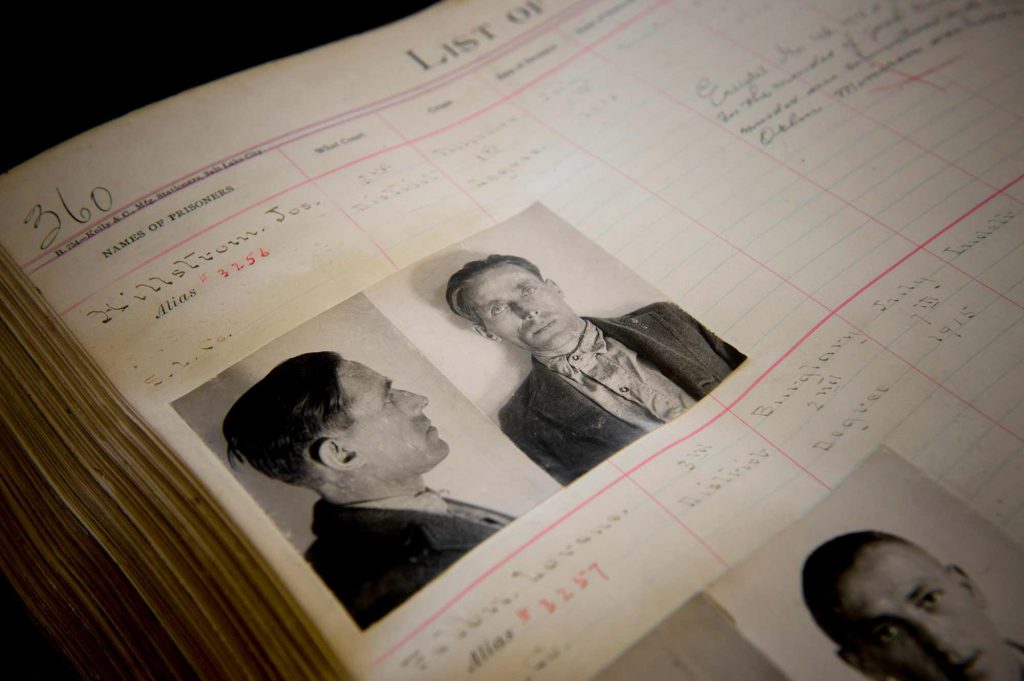 ---
Additional Resources & Readings (Harmon's Pics in order of preference)
The Salt Lake Tribunes "The Legacy of Joe Hill" website (http://local.sltrib.com/charts/joehill/landingpage.html) includes an assessable collection of accounts, primary sources, photographs, renditions of Hill's labor songs and much more.
Franklin Rosemont, Joe Hill: The IWW and the Making of a Revolutionary Working Class Counterculture; Chicago: Charles H Kerr, 2003. [The book is a deep dive into the history of radical labor and how Joe Hill became an international icon for the labor movement.]
William M. Adler, The Man Who Never Died: The Life, Times, and Legacy of Joe Hill, American Labor Icon; New York: Bloomsbury, 2011.
Gibbs M Smith, Labor Martyr: Joe Hill; Layton, Utah: Peregrine Smith Books, 1969. [The book that started it all, written by one of Utah's most important 20th century public intellectuals and the cofounder of Utah's largest nationally recognized book publisher – Gibbs Smith Publishers].
Topics Discussed in Time:
Part One
Minute: 00:00 – 02:00 Senior Historian Brad Westwood introduces former Salt Lake Tribune Director of Photography Jeremy Harmon who is also an ardent researcher regarding Utah's industrial labor history and is a contributor to the website JoeHill.Sltb.com. In this episode, Jeremy Harmon shares his research and knowledge on the life and times of the union folk leader, Joe Hill.
Minute: 02:00 – 07:45 Jeremy Harmon describes the political and social environment during Pre-World War I Utah. An influx of immigrants from Eastern Europe migrated to Utah becoming an essential large part of the industrial labor force. A number of different labor movements formed in 1911, socialist labor movements that carried perceived foreign socialist ideas alarmed the majority population across the country. The Joe Emmanuel Hillstrom legend—famously known as Joe Hill— was born from the conditions and ideas occurring during this time period. Joe Hill himself was part of the Swedish American Community in Utah and a critical figure in Utah's labor history.
Minute: 07:45 – 26:57 During a 1914 January riot, a grocery store owner, John Morrison is murdered. Joe Hill also received a gunshot wound that same night, this allowed prosecutors to use it as evidence to connect him to Morrison. Because Morrison had previously been a police officer, the media altered the story into a revenge story, IWW vs. the Police. Joe Hill became the face of this revenge narrative even though Morrison's son said Joe was not the murderer. Anti-union sentiments heightened in Utah and hyper patriotism is spreading across the country, causing anti-union laws to come into effect.
Minute: 26:57 – 34:46 Joe Hill was a troubadour, his songs were published in the Industrial Worker's Union publication. His musical influence shaped labor unions ideas which caused him to be a significant target for police. Hill's songs were parodies of popular hymns from that time, lyrics portrayed a sense of betrayal from the mining industries and critical of capitalistic greed. One of the songs, Mr. Blockhead, was sung at a rally in 1913. When Joe Hill was arrested rallies across the country sought justice on Joe's behalf.    
Part Two
Minute: 00:00 – 16:00 Jeremy Harmon discusses the sources of his research, their credibility, modern locations in the Sugar House area that are part of this historical story and the legacy that these places still carry.
Minute: 16:00 – 26:00 The past is a foreign country that we don't always understand. Immigrants formed labor unions to protect their livelihoods, it was never about a political agenda. The struggle between the Wobblies and the Police caused a significant amount of distrust and fear in immigrant communities. Until the end, Joe Hill remained loyal to his community and remains to this day as a labor activist and hero.
Do you have a question or comment, or a proposed guest for "Speak Your Piece?" Write us at "ask a historian" – askahistorian@utah.gov