Winning a state competition offered Carole Alden the hook for a life breakthrough.
By Ellen Fagg Weist
Last year, when Carole Alden heard an announcement over the prison loudspeaker that she had a phone call, she was worried.
Something must have gone wrong, she assumed. In prison, few inmates receive phone calls unless something was terribly wrong. Alden began worrying about her five adult children and her three granddaughters, and she tears up as she recalls the moment.
Instead, the artist heard good news. Great news, in fact. Her crocheted artwork "Fish House," an intricately detailed rendering of a tiny house, was judged best in show in the annual exhibition sponsored by the Utah Division of Arts & Museums. In addition, her piece had been selected for purchase for the state's permanent art collection.
Alden was assured her work would be safeguarded in the state's climate-controlled vault. That made her laugh, because the Utah Department of Corrections was keeping her in a vault, too. But she was sure her artwork enjoyed better climate conditions than she was receiving as an inmate.
Alden was released from prison on May 29 after serving a 13-year sentence for the 2006 shooting death of her third husband, Martin Sessions. At 59, an age when most of her peers are considering retirement plans, Alden is using her state art award as seed money to build a new life.
She's focused on the work of rebuilding a 44-year-old Dodge RV into her own Fish House, which she will live in and use as an art studio. It's her dream to travel the country teaching art classes for those scarred by domestic violence.
It's a crazy ambitious idea, but for a former inmate accustomed to scavenging materials to make art, the plan seems almost possible.
---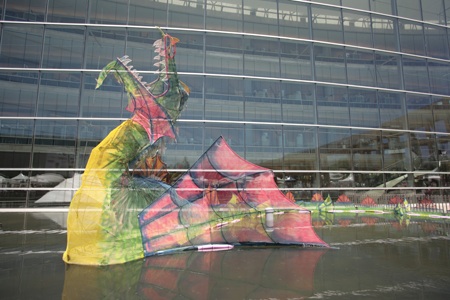 In the 1990s and early 2000s, Carole Alden exhibited her fantastical animal-inspired sculptures around the Wasatch Front, including at Art Access, the Springville Art Museum and the annual Hogle Zoo Art Show. But her most dramatic work was the 96-foot-long steel dragon with translucent wings that floated in the City Library pool at the Utah Arts Festival in 2006.
Her local reputation as an artist made what happened after she had remarried and moved to rural Delta so shocking.
In 2007, she pleaded guilty to manslaughter and desecration of a body in the shooting death of her husband, and received a 15-year-sentence. The details aren't in dispute: She shot him with a .38 caliber handgun, then tied his body to a Jeep and pulled it out of the house into the backyard. The next day she called the police and confessed.
According to newspaper reports, Sessions' relatives weren't sympathetic to her lawyer's claims of self-defense or emotional distress due to repeated alcohol-and-drug-fueled beatings. Divorce could have prevented the tragedy, his sister told a reporter at the time.
"If I hadn't done what I did, I would have died," Alden says now about her crime. "He was reaching to grab me and had me cornered. He had described what he was going to do. Damned if you do, dead if you don't."
---
You want to live in a fish? her daughter Rachael Senft remembers thinking. "Of course you do. And it's going to be sparkly."
For her crochet pieces, Alden builds a series of inner and outer walls, then hand-stitches the layers together. "Very sturdy," she says. "It takes a lot of yarn to do this, five to seven strands of yarn on the hook, which makes it solid, like carpet backing."
The Fish House uses pencils for the axles and the trailer hitch. Stick pens and cardboard pieces, including cardboard from a box used to ship guns, also add stability.
A jail officer recycled a shipping box for her to use, ironic because of what it once contained: AK-47 rifles mistakenly sent to the Wasatch County Jail from the U.S. Department of Homeland Security. Alden was working in the jail's commissary when it arrived, but she knew better than to touch the guns. Corrections officers handled the return shipment, but recycled the cardboard box to her, and she used it to support her "Fish House" artwork.
Carole Alden calls her work "architectural crochet." A friend calls her artistic style "creative belligerence."
Alden thinks it will take at least six months, maybe more, to remodel the RV into her real-life Fish House studio. Marine-grade plywood and roof paint are expensive, and "I'm resource dependent right now," she understates, noting the 86 cents a day she earned at her prison jobs. Renovation has also been slowed by the recent theft of her tools.
She's found a parking spot in rural Leeds — the RV is too old to be admitted to most of the state's mobile home parks — and her parole officer has given her permission to live in the vehicle once it's habitable. The spot has a John Waters vibe; she tells herself she's moving into a bohemian neighborhood.
Eventually, she plans to build a fish shape around the trailer, stretch crochet over that, and then cover the yarn with plexiglass scales for protection from the weather. Why a fish? Organic shapes make her feel more comfortable. "Water is life," she adds, "and I have an interest in things that can live in it."
The next step will be adding electronic fiber-optic lights, for an effect "like a cuttlefish, how the colors move across their skin." When it's finished, she hopes the RV will serve as an advertisement for her artwork.
"If I'm living in a giant fish, people are going to wonder why."
Senft, her daughter, entered the crocheted fish sculpture into the state competition; Alden didn't think it was professional enough. Perhaps that was because her yarn pieces weren't accepted into the state's earlier exhibition, which featured bronze or metal sculptural art pieces.
"Apparently yarn from Walmart doesn't count as a sculptural medium yet. It will," Alden says with a laugh on a hot July morning in the parking lot of a West Valley City industrial park where the RV is temporarily parked outside her son's workshop.
As we talk, the ringtones on her hand-me-down phone display her humor. Her parole officer is signaled by a dog's barking; her pen-pal boyfriend in New Orleans earns jazz notes.
Jurors lauded "Fish House" for its outstanding craftsmanship. "Her work is borne out of an urgency to craft a clear, completely idiosyncratic, version of utopia," said juror Miguel Arzabe, a San Francisco artist. He praised "the humble medium of yarn, a rigorous crocheting technique, and a healthy dose of whimsy."
"I will look at anything and try to think of 10 things I can do with it."
Her son calls Alden's future home the "pee RV," due to the health issues of the previous owner. Even in its rustic state, the artist has decorated the vehicle with hanging plants. After all, she's used to the creative work of recycling and repurposing.
---
In jail, Alden introduced herself to a new guard by sculpting a dragon out of oatmeal on her meal tray. Because she was bored. Because she could. Because even left-over gruel can serve as an artistic medium. Officer Dawn Franson says she had never seen anything like it.
While serving her sentence, Alden was frustrated by the limited materials available for her art. She used tea and coffee to make dyes, mascara to draw on t shirts. She experimented with an ink wash applied on top of the gel found inside sanitary pads, and she designed intricate gingerbread villages every Christmas.
For a while, snow was her best artistic medium. Prison rules prohibited making snowmen, so she crafted low-lying salamanders, turtles and, once, a 70-foot dragon, body-slamming mounds of snow into shape. Juice made "a nice color wash," she adds.
For years, she watched other inmates crochet, but she wasn't interested. After you've sculpted in metal, granite, and clay, yarn doesn't seem like a real medium. Eventually she asked for a lesson, and her instructor spent three hours trying to teach her simple stitches. "Bless her soul," Alden says, "but I was too embarrassed to admit that I just didn't get it."
That evening, though, she had a vision in her head of a fantastical creature. She started wrapping yarn around a crochet hook, inventing her own technique, and went on to work through the night. By morning, she had created a salamander complete with toes, eyes and spots. "I'm kind of an idiot savant when it comes to crochet," Alden says.
She became obsessed, often sitting up until 2 or 3 a.m. in her cell, crocheting by the illumination of a book light. She could buy yarn from the commissary, but the limited colors available didn't match the ideas in her head. She started unraveling the strands of 10 to 15 skeins of yarn at a time, then coiled them together again to make new colors.
When Alden was released from prison last spring, her first stop was at an art supply store. She bought some sparkly yarn as well as a set of 72 colored pencils. The eight colors of pencils she had access to in prison simply hadn't been enough. But in the first months after she was released, Alden hasn't quite been able to use the pencils yet. She likes to look at them, still pristine and beautiful in their packaging, and imagine what she will make.

It's difficult to reconcile Alden's creative ingenuity with the path that landed her in prison. She was born in France and lived in Michigan, Idaho, Colorado and New Zealand, her family moving often due to her father's job as a forestry professor.
Her first husband was a research scientist who took a job at Utah State University, and in Logan the family grew to three children. In the 1980s she exhibited her free spirit by choosing to have her hair dyed purple, explaining it was "a time when punk hadn't made its way to Utah yet." She fingers her long gray curls, dyed in variegated shades of fuschia-to-lavender with the help of her granddaughter. For Alden, dying her hair is a sign of freedom now that she's no longer living under strict prison rules.
Eventually, after a divorce, she and her children found themselves homeless for a time. In desperation, she built a shell for a pickup truck. She told her young children they were on an adventure when she drove the truck across the country, rather than telling them she was fleeing a violent boyfriend.
For years, she struggled to support her children, while her partners couldn't hold a steady job. She fell in love with one man, Andy, whom she considered her soulmate, but she soon learned the reality of his drug addiction. A tattoo on her upper arm memorializes him and the tragic memory of his overdose.
The family lived way below the poverty line, with Alden cooking everything from scratch, raising and butchering animals for meat. It certainly wasn't an easy life. But Senft remembers her mother always surrounded her children with art and music.
Then Alden's life spiraled into violence and a prison sentence. "I feel a lot of guilt about being gone and knowing everything my kids went through," she says, adding that they all grew up to be extremely competent.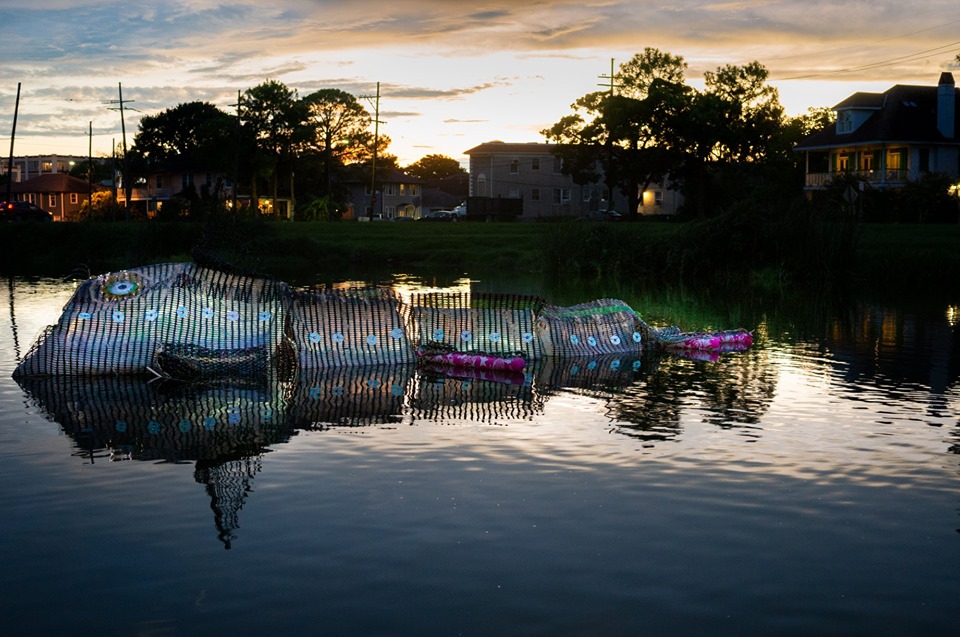 Since her release, she has spoken about prison art at a corrections conference in California. Then in late July, New Orleans' Blue House Civic Studio invited her to lead a workshop in creating art out of recycled materials. Using skills honed all those years ago at the Utah Arts Festival, she supervised the building of a 25-foot "Water Creature," complete with "lighted innards," that was launched in the city's Bayou St. John.
"I think she has the capacity to really be a changemaker," says Wendy Jason, of the Washington, D.C.-based Justice Arts Coalition, who has recommended Alden for speaking gigs at corrections conferences. "She'll do that through both her voice, her spoken story, but also her art."
---
VIEW THE ARTIST'S WORK
bit.ly/2kubIHm
UPCOMING EXHIBITION
Rio Gallery | Statewide Annual Exhibition: Mixed Media and Works on Paper | Nov. 15-Jan. 10 | artsandMuseums.utah.gov
VIDEO OF THE WATER CREATURE LAUNCH
At the Rio Gallery:
Statewide Annual Exhibition: Mixed Media & Works on Paper, Nov. 15 to Jan. 10
Location: 300 S. Rio Grande St., Salt Lake City; 801-245-7272
Hours: Monday-Friday, 8 a.m. to 5 p.m.; closed Saturday and Sunday.
At the Alice Gallery:
Amidst: Holland Larsen, Amanda Lee, and Kathy Puzey, Sept. 13-Nov. 1
Selected works from the Alice Merrill Horne Art Collection, Nov. 8-Jan. 10
Location: 617 E. South Temple, Salt Lake City; 801-245-7272
Hours: Tuesday-Friday, 10 a.m. to 4 p.m.; closed Saturday to Monday.
---
Read Other MUSE Stories: